Event
An experience of music imagined and created in real time. This series runs from September 2023-May 2024.
December's Performance:
Reggie Nicholson – Drums
Reggie Nicholson is one of the most distinctive, inventive and inspirational drummer/percussionist of his generation. Nicholson first gained a reputation as a drummer and percussionist in his hometown of Chicago. During his early days before moving to NYC, Nicholson worked around Chicago with many great musicians, and performed regularly at the famous organ club, The Other Place.
Nicholson has performed and recorded with a wide variety of jazz and new music luminaries such as Jon Logan, Larry Frazier, Mendai, Vince Willis, Phil Cohran, Muhal Richard Abrams, Amina Claudine Myers, Henry Threadgill, Ernest Dawkins, Leroy Jenkins, Edward Wilkerson, Hanah Jon Taylor, Anthony Braxton, Sam Newsome, Myra Melford, Wilber Morris, Elektra Kurtis, Billy Bang, Butch Morris, Yuko Fujiyama, Oliver Lake, Fay Victor, Roy Campbell, just to name a few.
As a composer, he was nominated twice for the Cal Arts Composition Award in 1993/1994. Concerts of his compositions have been presented at Roulette, Interpretations, Jazz Shares, Firehouse 12, Constellations, Vision Festival, and AACM concert series. Nicholson has also toured throughout USA, Europe, and Japan.
For more information, please visit their website.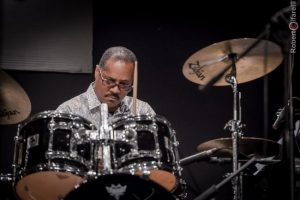 Ray Anderson – Trombone
Ray Anderson is an American jazz trombonist based in New York. He started playing trombone when he was eight, and moved to New York City in 1972. Trained by the Chicago Symphony trombonists, he is regarded as someone who pushes the limits of the instrument, including performing on alto trombone and slide trumpet. He is a colleague of trombonist George E. Lewis. Anderson also plays sousaphone and sings.[2] He was frequently chosen in DownBeat magazine's Critics Poll as best trombonist throughout the late 1980s and early 1990s. He picked up a wide variety of musical experience, played in the booming loft scene and spent important periods with Barry Altschul's trio and Anthony Braxtons' quartet. These bands have included the wild funk unit Slickaphonics and a trio with bassist Mark Helias and drummer Gerry Hemingway called BassDrumBone. Now Anderson can be heard leading his quartet (piano or guitar, upright bass and drums), his Wishbone Ensemble (which adds percussion and violin to the quartet), his Alligatory Band (electric bass and guitar, drums, percussion and trumpet) his Bonified Big Band (classic big band instrumentation) and Ray's latest incarnation, The Pocket Brass Band featuring Jack Walrath on Trumpet, Bob Stewart on Tuba and Charli Persip on Drums. Ray is also a member of Slideride, a four trombone cooperative featuring Craig Harris, George Lewis and Gary Valente.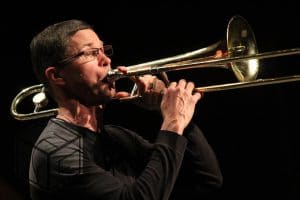 Joe Morris – Bass
Joe Morris is a composer/improviser multi-instrumentalist who plays guitar, double bass, mandolin, banjo, banjouke, electric bass and drums.
Morris has performed and/or recorded with many of the most important contemporary artists in improvised music including Braxton, Evan Parker, John Zorn, Ken Vandermark, Tomeka Reid, Fay Victor, Tim Berne, William Parker, Sylvie Courvoisier, Peter Evans, David S. Ware, Joe Maneri, Dewey Redman, Wadada Leo Smith, Leroy Jenkins, Lawrence D. "Butch" Morris, Marshall Allen, Barre Phillips, Barry Guy, Matthew Shipp, Gerald Cleaver, and many others. He has been curating Improvisations Now at Real Art Ways for many years.
To learn more about Joe Morris, please visit his website.