Event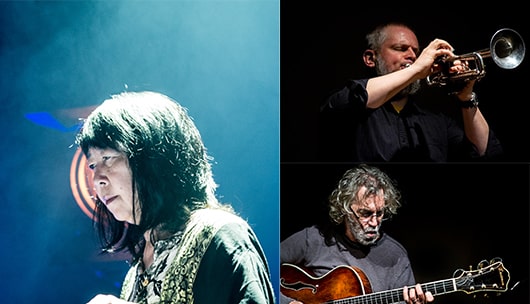 An experience of music imagined and created in real time. This series runs from September 2023-May 2024.
November's Performance
Ikue Mori – Electronics
Ikue Mori (b. 1953) is an electronic musician expanding the range of sonic and technical possibilities for experimental and improvisational music. She creates rhythmic and ambient soundscapes using digital processing techniques, a laptop computer, and repurposed elements of electronic drumming equipment. She is known for transforming the use of percussion in improvised music and has inspired generations of electronic musicians.
She has collaborated with numerous musicians in diverse genres and styles throughout the US, Europe, and Asia, while continuing to produce and record her own compositions. Ikue Mori was recently received a MacArthur Genius Grant in 2022 for transforming the use of percussion in improvisation and expanding the boundaries of machine-based music.
For more information, please visit her website.
Nate Wooley – Trumpet
Nate Wooley (b.1974) was born in Clatskanie, Oregon and began playing trumpet professionally with his father, a big band saxophonist, at the age of 13. He made his debut as soloist with the New York Philharmonic at the opening series of their 2019 season. Considered one of the leading lights of the American movement to redefine the physical boundaries of the horn, Wooley has been gathering international acclaim for his idiosyncratic trumpet language.
Wooley moved to New York in 2001 and has since become one of the most in-demand trumpet players in the burgeoning Brooklyn jazz, improv, noise, and new music scenes. He has performed regularly with John Zorn, Anthony Braxton, Eliane Radigue, Annea Lockwood, Ken Vandermark, Evan Parker, and Yoshi Wada. He has premiered works for trumpet by Christian Wolff, Michael Pisaro, Annea Lockwood, Ash Fure, Wadada Leo Smith, Sarah Hennies and Eva-Maria Houben.
Click here for his full bio.
Joe Morris – Percussion
Morris was born in New Haven Connecticut in 1955. He began playing guitar at the age of 14 first playing rock music, progressing to blues, then to jazz, free jazz and free improvisation. He released his first record Wraparound (riti) in 1983. He has composed over 200 original pieces of music. Morris has performed and/or recorded with many of the most important contemporary artists in improvised music including, Anthony Braxton, Evan Parker, John Zorn, Ken Vandermark, Mary Halvorson, Tyshawn Sorey, Tomeka Reid, Fay Victor, Tim Berne, William Parker, Sylvie Courvoisier, Agusti Fernandez, Peter Evans, David S. Ware, Joe Maneri, Dewey Redman, Fred Hopkins, Sunny Murray, Wadada Leo Smith, Leroy Jenkins, Lawrence D. "Butch" Morris, Marshall Allen, Barre Phillips, Barry Guy, Matthew Shipp, Gerald Cleaver, and many others.
Morris is featured as leader, co-leader, or sideman on more than 200 commercially released recordings on the labels ECM, ESPdisk, Clean Feed, Hat Hut, Aum Fidelity, Avant, OkkaDisk, Not Two, Soul Note, Leo, No Business, Rogue Art, Relative Pitch, Incus, RareNoise, Fundacja Sluchaj, and his own labels Riti and Glacial Erratic. Morris has toured extensively throughout North America and Europe as well as in Brazil, Korea and Japan.
He has lectured and conducted workshops on his own music and on improvisation in the US, Canada, and Europe including at Princeton University, Dartmouth College, Harvard University, Bard College, University of Alberta, and University of Guelph. He was the recipient of the 2016 Killam Visiting Scholar Award at University of Calgary. He has been on the faculty at Tufts University, Southern Connecticut State University, Longy School of Music of Bard College, and New School. Since 2000, he has been on the faculty in the Jazz and Contemporary Improvisation Department at New England Conservatory. Morris is the author of the book, Perpetual Frontier: The Properties of Free Music (Riti Publishing 2012).
For more information, please visit their website.