Event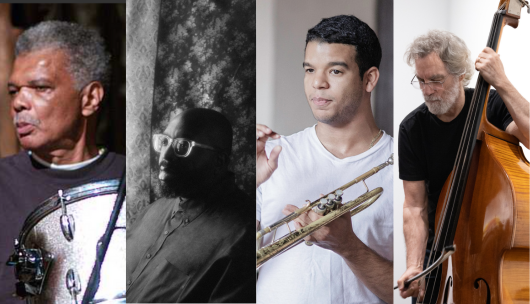 An experience of music imagined and created in real time. This series runs from September 2023-May 2024.
September's Performance:
Charles Downs – Drums
Charles Downs is an American free jazz drummer. During the 1970s, he was active in the New York City loft jazz scene, performing at venues such as Rashied Ali's "Ali's Alley" and Sam Rivers' "Studio Rivbea". He was a member of Ensemble Muntu with Jemeel Moondoc, among others.
In 1976, Downs performed in a production of Adrienne Kennedy's A Rat's Mass directed by Cecil Taylor at La MaMa Experimental Theatre Club in the East Village of Manhattan. Musicians Jimmy Lyons, Andy Bey, Karen Borca, David S. Ware, and Raphe Malik also performed in the production. Taylor's production combined the original script with a chorus of orchestrated voices used as instruments. Downs continued to perform with Taylor into the 1980s, appearing on his albums The Eighth and Winged Serpent (Sliding Quadrants). Downs is also a member of Other Dimensions in Music with Roy Campbell, Daniel Carter, and William Parker.
Darius Jones – Alto Saxophone
"Witty, soulful and brimming with invention, an inspired marriage of creative music and song." – The Wire

"The sound is breathtaking. The space, color, intensity, and every single note Darius Jones plays is not only a note, but a pure vibration that goes right into our bones and straight to our heart, taking the time and space its needs, so it can be purely felt in its intention, strength, and depth." – Best of Jazz
Darius Jones is a critically acclaimed saxophonist and composer who embraces individuality and innovation in the tradition of Black music. Jones has been awarded the Van Lier Fellowship, Jerome Foundation Artist-in-Residence and commission, Western Front residence and commission, French-American Jazz Exchange Award, Robert D. Bielecki Foundation Award, and a Fromm Music Foundation commission from Harvard University. He has collaborated with Gerald Cleaver, Oliver Lake, William Parker, Andrew Cyrille, Craig Taborn, Wet Ink Ensemble, Jason Moran, Trevor Dunn, Dave Burrell, Eric Revis, Matthew Shipp, Marshall Allen, Nasheet Waits, Branford Marsalis, Travis Laplante, Fay Victor, Cooper-Moore, Matana Roberts, JD Allen, Matthew Shipp, Nicole Mitchell, Georgia Ann Muldrow, International Contemporary Ensemble and many more.
For more information, please visit their website.
Aquiles Navarro – Trumpet
"This Canadian-Panamanian trumpeter's playing features glorious improvised fanfares as if announcing the arrival of some cosmic dignitary, as well as repeated melodic themes, providing a brightly lit entry point into jazz's outer regions." The Guardian
Aquiles Navarro is a New York-based trumpeter, composer and DJ of Panamanian heritage. He is also the CEO & Founder of River Down Records, a label that focuses on documenting and expanding the creative sounds and minds of Panamá. Aquiles derives his sounds from folkloric music, salsa, reggae and everything that were around. This eclectic music background, based on his upbringing in Panama has led him to collaborate with folkloric musicians, dancers, visual artists, actors, poets and really the world around him.
Navarro is a part of the liberation-oriented free jazz collective, Irreversible Entanglements.
For more information, please visit their website.
Joe Morris – Bass 
"One of the most profound improvisers at work in the United States." – Wire Magazine
Morris was born in New Haven Connecticut in 1955. He began playing guitar at the age of 14 first playing rock music, progressing to blues, then to jazz, free jazz and free improvisation. He released his first record Wraparound (riti) in 1983. He has composed over 200 original pieces of music. Morris has performed and/or recorded with many of the most important contemporary artists in improvised music including, Anthony Braxton, Evan Parker, John Zorn, Ken Vandermark, Mary Halvorson, Tyshawn Sorey, Tomeka Reid, Fay Victor, Tim Berne, William Parker, Sylvie Courvoisier, Agusti Fernandez, Peter Evans, David S. Ware, Joe Maneri, Dewey Redman, Fred Hopkins, Sunny Murray, Wadada Leo Smith, Leroy Jenkins, Lawrence D. "Butch" Morris, Marshall Allen, Barre Phillips, Barry Guy, Matthew Shipp, Gerald Cleaver, and many others.
Morris is featured as leader, co-leader, or sideman on more than 200 commercially released recordings on the labels ECM, ESPdisk, Clean Feed, Hat Hut, Aum Fidelity, Avant, OkkaDisk, Not Two, Soul Note, Leo, No Business, Rogue Art, Relative Pitch, Incus, RareNoise, Fundacja Sluchaj, and his own labels Riti and Glacial Erratic. Morris has toured extensively throughout North America and Europe as well as in Brazil, Korea and Japan.
He has lectured and conducted workshops on his own music and on improvisation in the US, Canada, and Europe including at Princeton University, Dartmouth College, Harvard University, Bard College, University of Alberta, and University of Guelph. He was the recipient of the 2016 Killam Visiting Scholar Award at University of Calgary. He has been on the faculty at Tufts University, Southern Connecticut State University, Longy School of Music of Bard College, and New School. Since 2000, he has been on the faculty in the Jazz and Contemporary Improvisation Department at New England Conservatory. Morris is the author of the book, Perpetual Frontier: The Properties of Free Music (Riti Publishing 2012).
For more information, please visit their website.