Event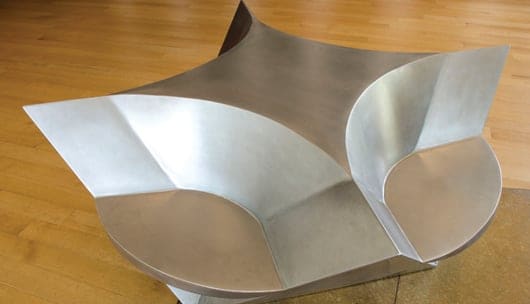 ARTS
Howard Fromson: Here and Now
"Here and Now" exhibits new sculptures, chairs, and photographs of installations at the New Britain Museum of American Art, the Hartford Library, and the Mortensen Riverfront plaza by inventor, artist, and philanthropist Howard Fromson.
Fromson's pieces emerge from principles of weight and balance defined by a basic geometric shape: the tetrahedron. Steel is bent, crimped, and folded in repeating patterns to create a variety of sculptures, from motorized kinetic pieces to what are known as Fromson Tetra Chairs.
Accompanying the sculptures in the exhibit are large photographs of pieces on view around the Hartford region. A four-seat Tetra Chair is installed at the Hartford Public Library, and two other chairs enjoy public use at the Lincoln Financial Sculpture Walk along the Connecticut river.
About the artist
Howard Fromson is a Connecticut native and known for his innovations in the fields of electrochemistry and process metallurgy. He is the founder and CEO of Anocoil Corporation and he holds more than 100 U.S. and foreign patents, including the silicated anodized lithographic printing plate which is used throughout the world.