Event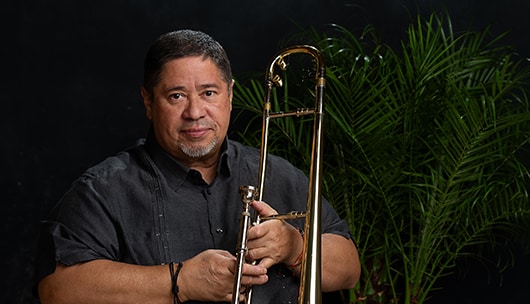 ARTS
Holiday Parranda: Papo Vázquez and the Mighty Pirates Troubadours
Real Art Ways welcomes back trombonist, composer and arranger Papo Vázquez for an annual concert and holiday parranda. Bring an instrument to receive free admission!
Real Art Ways le da la bienvenida de regreso al trombonista, compositor y arreglista Papo Vázquez a nuestro concierto anual y parranda navideña.
Parranda de aguinaldo (Christmas folk music), is an Afro-Indigenous musical form played during the holidays in various Caribbean and Latin American countries including Puerto Rico, Cuba, Trinidad, and the coastal area of the states Aragua and Carabobo in Venezuela.
Parranda de aguinaldo (música folclórica navideña), es una forma musical afro-indígena que se toca en temporada de vacaciones en varios países del Caribe y América Latina, incluidos Puerto Rico, Cuba, Trinidad y la zona costera de los estados de Aragua y Carabobo en Venezuela.
Band of Pirates
Papo Vázquez, Trombone, Vocals, Leader
Raul Rios – Vocals, Trumpet Ivan Renta, Tenor Saxophone
Rick Germanson, Piano
Ariel Robles, Bass
Alvester C Garnett – Drums
Carlos Maldonado – Percussion, Vocals
Reinaldo Dejesus – Percussion, Vocals
Papo Vázquez
Trombonist, composer, arranger has 40+ years of career spanning Jazz, Latin and Afro Caribbean music. National Endowment for the Arts Master Artist, Grammy Nominee. Featured in the 2020 NPR Music Jazz Critics Poll.
"En fin, Vázquez junto a sus Mighty Pirates Troubadours e invitados exponen un proyecto exquisito y cadencioso que se transforma en un banquete para los amantes del género." – El Vocero, 2020
(In short, Vázquez along with his Mighty Pirates Troubadours and guests present an exquisite and lilting project that becomes a banquet for lovers of the genre.)
•Musical Director for the National Puerto Rican Day Parade Orchestra, (NYC/WABC) 2016, 2017, 2018, 2019
•Commissioned by Wynton Marsalis to compose music for Jazz and Art series, conducted and performed with J@LC orchestra, CD release August 2019
•New York Pops Education, Board of Education certified, 2018 and 2019
•Commissioned new music for Afro Latin Jazz Alliance for "Nueva Musica" concert series
•Grammy nominated for Papo Vázquez' Mighty Pirates, Marooned/Aíslado, 2008
Vázquez was deeply moved by jazz at a young age. His appreciation and knowledge of the indigenous music of the Caribbean provides him with a unique ability to fuse Afro-Caribbean rhythms with freer melodic and harmonic elements of progressive jazz.
Learn more at his website.