Event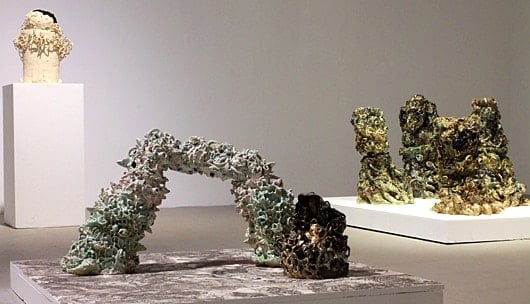 Vestiges from a Dream Pool
Heidi Lau creates sculptures and paper works exploring Chinese folk archetypes, unexplainable superstitions, and inherited memories.
For her exhibition at Real Art Ways, Lau presents a selected body of highly textured and glazed ceramic sculptures, some monumental and some miniature. All are embedded with elements from nature and folklore, carrying the memories of many forces.
The "Dream Pool" pays homage to Shen Kuo, who wrote Dream Pool Essays in 1088 AD which explained supernatural events, and the inability of empirical science to explain everything in the world.
– Vestiges from a Dream Pool has been covered by the Huffington Post at this link:
About the Artist
Heidi Lau grew up in Macao, currently lives in New York and works in Brooklyn. Her ceramics and works on paper have been exhibited nationally and internationally in venues such as the Macao Museum of Art, Wave Hill, Boston Center for the Arts, Tiger Strike Asteroid New York, Kniznick Gallery at Brandeis University and Aljira Center for Contemporary Art.
Her practice has been generously supported by numerous residencies and awards: Bronx Museum Artist In the Market Place Program, Emerging Artist Fellowship at Socrates Sculpture Park, Center for Book Arts Workspace Residency, Martin Wong Foundation Scholarship, among others. She is a recipient of the Joan Mitchell Foundation Painters and Sculptors Grant in 2015.