Event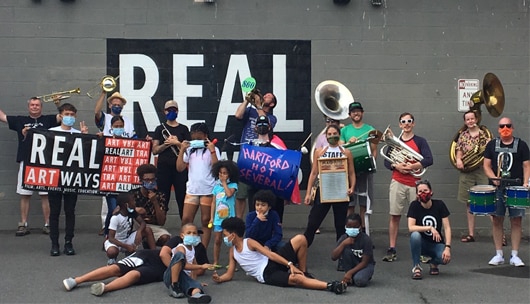 EVENTS
Hartford Brass Band Bonanza
Real Art Ways presents the first Hartford Brass Bonanza! Featuring The Hartford Hot Several, Fly By Brass Band, The Expandable Brass Band, Hartford Proud, and Papo Vazquez Mighty Pirates Troubadours.
This performance is free to the public with performances starting at 12:00pm. Support for this event comes from the Evelyn W. Preston Memorial Fund.
Food truck: No Pork on Dis Fork & La Gúera Food Truck
Bringing lawn chairs is strongly encouraged!
12pm: The Hartford Hot Several
We're Hartford's pep band. We show up whenever we want, wherever we want, to play some tunes to make you smile and dance! Hartford needed a funky marching band to bring brass, ruckus, and joy to all the parties. In 2012, we set out to be that band.
1pm: The Expandable Brass Band
Loud, raucous, and full of fun, the Expandable Brass Band is dedicated to spreading joyful music to the people of Western Massachusetts and beyond. Inspired by the international street band movement, we want to spread that joy of playing in the street both for the fun of it and in support of others working on important social issues, especially in our community. We strive to be up, moving, and interactive. We are completely self-organized, without a leadership hierarchy. Most of all, we are expandable, welcoming all and becoming what our members want us to be.
2pm: Hartford's Proud Drill Drum and Dance Corp.
Hartford's Proud Drill, Drum, and Dance Corp. Integrate sound, movement and artistry in the overall development of young and expose youth to bigger and greater opportunities so that they excel academically, socially, and artistically throughout life. Hartford's Proud serves youth between the ages of 5 – 24 and strives to accomplish our mission by using the power of sound and rhythm to support youth in the development of physical and emotional skills that will aid them in conducting successful lives.
3pm: Fly By Brass Band
We are a 12 piece brass band out of the greater Boston Area who enjoys playing interesting and approachable music. Born of the local Honk scene, we focus on bringing live horn harmonies to the people. Our tastes are eclectic, performing everything from second-line inspired jazz to upbeat rock. The main theme is: "Does this make us feel good and would it delight others?"
4pm: Papo Vázquez & Mighty Pirates Top Brass
Papo Vázquez is a trombonist, composer, and arranger. He has 40+ years of career spanning Jazz, Latin and Afro Caribbean music. He is a national Endowment for the Arts Master Artist and Grammy Nominee for his group Mighty Pirates. Born in 1958 in Philadelphia, PA, although his young formative years were in Puerto Rico. By age 17, Vazquez headed to New York City, recorded and performed with top artists in the salsa music scene like The Fania All-Stars, Ray Barretto, Willie Colón, Eddie Palmieri, Larry Harlow, and Hector La Voe. Vázquez became a key player in NYC's burgeoning Latin jazz scene of the late 1970's.
Vázquez was deeply moved by jazz at a young age. His appreciation and knowledge of the indigenous music of the Caribbean provides him with a unique ability to fuse Afro-Caribbean rhythms with freer melodic and harmonic elements of progressive jazz. The Mighty Pirates Orchestra continues to allow Vázquez the opportunity to blend multi-faceted compositions and trombone style with rhythms of Afro Caribbean origins and jazz.