Event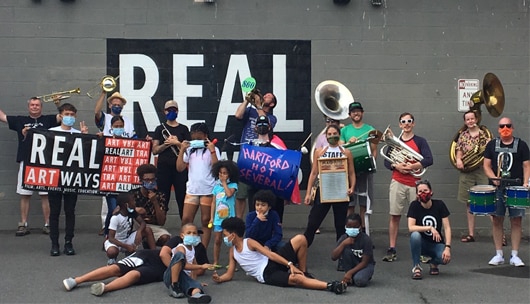 ARTS
Hartford Brass Band Bonanza 2023
Real Art Ways presents the Hartford Brass Bonanza! Featuring The Hartford Hot Several, Hartford's Proud Drill Drum and Dance Corp, Rara Bel Pose, Fiesta Del Norte, Extra Syrup. If it rains, we will be hosting this event in our gallery spaces indoors.
This performance is free to the public with performances starting at 12:00pm. Support for this event comes from the Evelyn W. Preston Memorial Fund.
Food truck: Samba's Cuisine
Bringing lawn chairs is strongly encouraged!
The Hartford Hot Several
We're Hartford's pep band. We show up whenever we want, wherever we want, to play some tunes to make you smile and dance! Hartford needed a funky marching band to bring brass, ruckus, and joy to all the parties. In 2012, we set out to be that band.
Hartford's Proud Drill Drum and Dance Corp.
Hartford's Proud Drill, Drum, and Dance Corp. Integrate sound, movement and artistry in the overall development of young and expose youth to bigger and greater opportunities so that they excel academically, socially, and artistically throughout life. Hartford's Proud serves youth between the ages of 5 – 24 and strives to accomplish our mission by using the power of sound and rhythm to support youth in the development of physical and emotional skills that will aid them in conducting successful lives.
Rara Bel Poze
Rara Bel Poze is a modern Haitian street band from Boston, MA that produces an astonishing mix of world beats bringing the Haitian culture to life through the use of acoustic instruments along with custom horns & drums. The band consists of 20 uniquely talented members whose live performances revisits what make cultural roots music so meaningful and powerful.
Because of their exhilarating and live shows, the band have quickly earned a reputation not only in the Boston Community but across many cities, states and Canada. The group's dynamic and unique sound has earned recognition by the City Councils of Boston, MA & Randolph, MA for their hard work, dedication and superb performance at the Boston Caribbean Carnival & J'ouvert.
The band believes in promoting love, peace and unity through the beat of their music and their mission is to keep the Haitian culture alive.  Ayibobo!
Fiesta Del Norte
Dressed in traditional sombreros and "charro" outfits, our repertoire spans from the Mariachis of Jalisco to the Nortenas of Chihuahua, to the harp music of  Vera Cruz, down to the Marimba music of Chiapas.  All this played on authentic instruments such as guitar, vihuela, guitarron, violin, trumpet and with beautiful singing.
Extra Syrup
Extra Syrup Horns centers its sound around classic R&B, Hip Hop and Pop. Their sound is soulfully tight, evoking a southern marching band swagger with a drive that only a city can produce. Their energy is infectious whether it's a 5-piece stage show or 6-piece mobile setup. ESH performed at Blue Note NYC in 2019, Symphony Space in 2020 and Metropolitan Museum of Art's METFEST in 2021. The group is bi-coastal and led by Bryan Walters (NYC) and Chanell "tubafresh" Crichlow (LA) of the well-loved PitchBlak Brass Band, currently on hiatus.