Event
EVENTS
George Balanchine Book Event: Mr. B by Jennifer Homans
On Sunday, March 26 2023, join us for a reading and discussion with Jennifer Homans about her new book Mr B: George Balanchine's 20th Century. 2:30 discussion immediately followed by a book signing. This is a free community event. 
"An intricate, meticulously researched biography of the revered and controversial dance icon…engrossing, vivid…the definitive account." – Kirkus Reviews 
Arguably the greatest choreographer who ever lived, George Balanchine was one of the cultural titans of the twentieth century—The New York Times called him "the Shakespeare of dancing." His radical approach to choreography—and life—reinvented the art of ballet and made him a legend. Written with enormous style and artistry, and based on more than one hundred interviews and research in archives across Russia, Europe, and the Americas, Mr. B carries us through Balanchine's tumultuous and high-pitched life story and into the making of his extraordinary dances.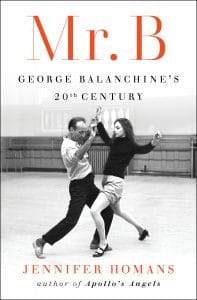 About Jennifer Homans
Jennifer Homans is the dance critic for The New Yorker and the bestselling author of Mr. B: George Balanchine's 20th Century (2022) and Apollo's Angels: A History of Ballet (2010). She is the editor of When the Facts Change, a collection of writings by her late husband, Tony Judt. Homans was a professional dancer and performed with the Pacific Northwest Ballet before earning a BA at Columbia University and a PhD in Modern European History at New York University, where she is now a Distinguished Scholar in Residence and the Founding Director of the Center for Ballet and the Arts.