Event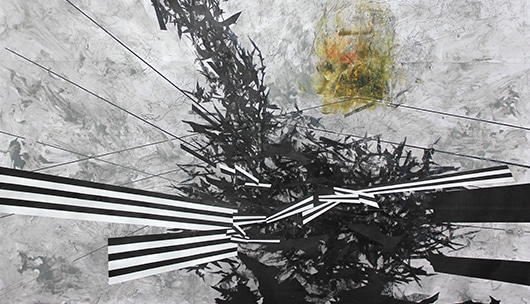 ARTS
Time-Space Compression: Geoffrey Detrani
Curated by David Borawski, Real Art Ways presents mixed media work by Geoffrey Detrani. 
Real Art Ways presents a solo exhibition of works by New Haven-based artist Geoffrey Detrani. Utilizing mixed media on paper, Detrani's paintings and drawings create abstract semblances of chaotic landscapes. The resulting compositions offer emotive textures of conflict between organic and inorganic bodies.  
From his artist statement,
"The imagery that I use explores a hypothetical intersection between the natural world and the built environment. I am interested in a representation of the natural world that is spun from a conflation of imagination and ideology – a symbolic rendering – rather than one that mimics our visual/optical experience of it."
About the Artist:
Geoffrey Detrani is a visual artist and writer whose work has been exhibited in New York, San Francisco, Los Angles, Boston and South Korea and other locales. His artists' books are in the collection of the Museum of Modern Art, the Brooklyn Museum of Art and the San Francisco Museum of Modern Art. His paintings are in the collections of the New Britain Museum of American Art, the Schenectady Museum, the Transportation Security Administration and various private collections. He works in New Haven, CT. 
Click here to learn more about the artist.
Image: Cleaving Day, pencil and acrylic on paper, 2019, 48×60″
"Many of Detrani's paintings feel like they attempt to capture a conflict between human-made constructions and nature. There is an energy to his works that stands in stark contrast with the architectural gridwork underlying his paintings."