Event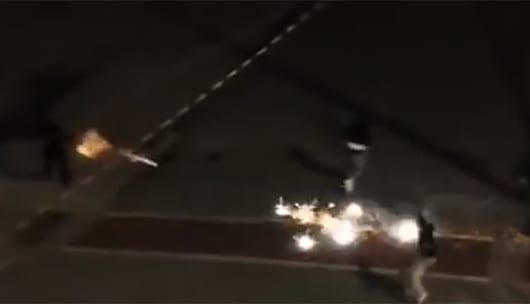 Real Art Ways presents a video project by interdisciplinary artist Danny Giles. Curated by David Borawski.
In Danny Giles' recent video, Game (2019), the artist reframes an activity of daily life. On a dark city corner lit by street lamps on Chicago's West Side, blurry figures engage in a risky game. Through grainy, slowed down video footage captured from an ambiguous vantage, the viewer is invited to question what they are seeing. What is the event taking place? Who are the actors? Who is holding the camera? For whom is the spectacle intended?
Blackness has always been subject to surveillance. Historical instances include legal codes like the 18th-century lantern laws of New York City, which required Black and Indigenous people to carry lanterns with them while on the streets at night and unaccompanied by a white person. The storage and accounting of enslaved Africans portrayed in "The plan of the slave ship Brooks" (1789) also anticipates modern architectures of surveillance like Jeremy Bentham's writing on the panopticon, a model for surveilling prisoners from a centralized tower that allows the warden to oversee an entire prison at once.
Through these examples, scholar Simone Browne writes about how Blackness has been "absented" from readings of surveillance studies. In her book, Dark Matters: On the Surveillance of Blackness, Browne elaborates on her theory of racialized surveillance which she describes as "a technology of social control where surveillance practices, policies, and performances concern the production of norms pertaining to race and exercise a 'power to define what is in or out of place.'" Alongside racialized surveillance, Browne situates dark sousveillance, "an imaginative place from which to mobilize a critique of racializing surveillance, a critique that takes form in antisurveillance, countersurveillance, and other freedom practices." In this video work, Giles critically engages with these issues through the overlapping frames of public and private spectacle. He encourages the viewer to grapple with their own perceptions and assumptions about what is being seen, and how this viewing is conditioned by a pervasive system of surveillance.
About the Artist:
Danny Giles is an artist and educator based in Rotterdam. His work uses varied material and performative approaches to address the possibilities and dilemmas of representing and performing identity, revealing hidden languages of power within mundane objects and spaces. Giles received his MFA from Northwestern in 2013 and BFA from The School of the Art Institute of Chicago in 2011. He attended the Skowhegan School of Painting and Sculpture in 2013. Giles' work has been exhibited, performed and screened at venues including The Jacob Lawrence Gallery, Seattle WA, Museum of Contemporary Art Chicago, the Mary and Leigh Block Museum, Evanston, IL, El Museo Tamayo, Mexico City, and the Contemporary Arts Museum Houston. Giles serves as Course Director of the Master Fine Art at the Piet Zwart Institute in Rotterdam.