Event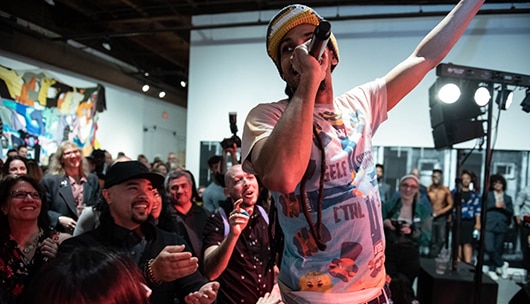 EVENTS
February Creative Cocktail Hour
Every third Thursday of the Month, creative, interesting and open-minded people gather to experience all kinds of art and connect with one another.
Featuring a concert by This Is Our Music Ensemble paying tribute to Jerry Gonzalez and the Fort Apache Band.
This Is Our Music Ensemble includes:
Matt Chasen – vocals • Brian Simontacchi – trombone • Zaccai Curtis – piano • Alex "Apolo" Ayala – bass • Joel Mateo – drums • Nelson Bello – congas
Opening Receptions:
Time-Space Compression by Geoffrey Detrani
Americana Vibes curated by Sam Goldenberg
Hail Eve, Full of Grief and Earthly Delights by Alexis Christina Crowley.
February's Creative Cocktail Hour will also have pop-up food provided by Mini Munch.