Event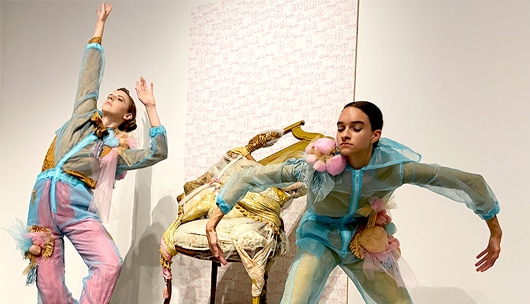 Exhibiting artist Shannon VanGyzen's sculptures contort furniture to contain movement, kind of like dancers.
We reached out to the Hartford Dance Collective and drag artists Coleslaw and Severity Stone to introduced them to Shannon's work and to see what would happen.
The dancers, in various combinations and with an array of dance styles, will perform with each of Shannon's sculptures.
This performance is supported in part by an Artist Engagement Fund from the National Performance Network.
In addition to a Livestream, the performance will also be documented in an edited format by filmmaker and artist Laine Rettmer.
Please Note:
All performers have recently tested negative for COVID-19, specifically for this performance. Those who are performing in groups have been in quarantine "pods"  in the time leading up to the performance. Hartford Dance Collective and Real Art Ways have worked together with the safety of staff and artists during the filming of this performance in mind.