Event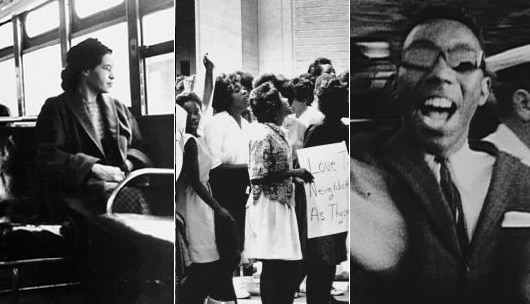 EVENTS
Community Film Screenings
In honor of Martin Luther King, Jr. Day, Real Art Ways will screen three moving documentary films that brilliantly evoke the civil rights movement, in ways that all ages can appreciate. Every American should see these films.
11 AM
Mighty Times: The Legacy of Rosa Parks – 40 min.
Distributed by the Southern Poverty Law Center, this film tells the story of the historic Montgomery Bus Boycott, as experienced by participants and witnesses. The film highlights the potential for positive social change and the important roles people can play in their communities.
12 Noon
Mighty Times: The Children's March – 40 min.
This film tells the mostly unheard story of the youth of Birmingham, Alabama, who braved fire hoses and police dogs in 1963 to bring segregation to its knees. The Children's March is a testament to the ability of young people to effect positive social change.
1 PM
Soundtrack for a Revolution – 80 min.
The story of the American civil rights movement through its powerful music – the freedom songs protesters sang on picket lines, in mass meetings, in paddy wagons, and in jail cells as they fought for justice and equality. The freedom songs evolved from slave chants, from the labor movement, and especially from the black church. The infectious energy of the songs swept people up and empowered them to fight for their rights.
More than 4,000 children visit Real Art Ways annually to see these films and others through our Film Field Trip Program.
Come for one or stay for all three.