Event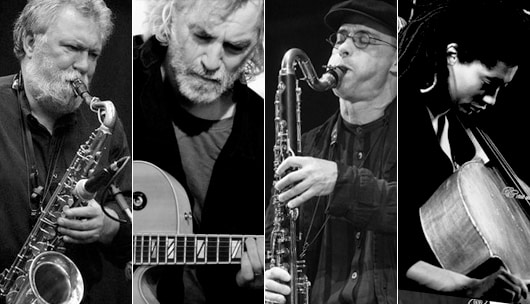 ARTS
Evan Parker / Joe Morris / Ned Rothenberg / Tomeka Reid
An evening of bold and dynamic improvised music.
"Evan is one of the great living legends of improvised music. No one should ever turn down a chance to play with him, and everyone who enjoys artistic music should take the opportunity to be in the audience and listen to him." – Joe Morris
The relationship between prominent British free jazz saxophonist Evan Parker and American musicians Joe Morris and Ned Rothenberg goes back several years to a concert they played together in New Haven, Connecticut. Morris says, "The music was really good and we all enjoyed it." Parker had also joined Morris and cornetist Stephen Haynes at RAW for one of their "Improvisations" series concerts in 2014. Rounding out the lineup at this event is innovative cellist Tomeka Reid, who recently played at RAW with Taylor Ho Bynum in 2018.
About Evan Parker
"Evan Parker is a titan of the British jazz avant-garde, and one of the leading saxophonists in his idiom anywhere." — Nate Chinen, New York Times
British jazz saxophone revolutionary Evan Parker began to play at the age of 14. Initially he played alto and was an admirer of Paul Desmond; but later he switched to tenor and soprano, following the example of John Coltrane, a major influence who, he would later say, determined "my choice of everything." Parker moved to London and by end of the 1980s he had played in most European countries and had made various tours to the USA, Canada, Australia, New Zealand and Japan.
Parker has worked extensively in both large and small ensembles, but is perhaps best known for his solo soprano saxophone music. This singular body of work has centered around his continuing exploration of techniques such as circular breathing, split tonguing, overblowing, multiphonics and cross-pattern fingering. Parker has likened performing his solo work to entering a kind of trance-state. The resulting music is hypnotic with an uninterrupted flow of snaky, densely-textured sound that Parker has described as "the illusion of polyphony." Parker is widely acknowledged as "one of the music's greatest living instrumentalists" (The Times), "one of the world's finest ensemble improvisers" (Chicago Reader) and "one of the modern era's most original voices" (The Wire).
About Joe Morris
"Joe Morris, The preeminent free music guitarist of his generation"– Downbeat
New Haven, Connecticut native Joe Morris started on guitar at the age of 14 and is essentially self-taught. After receiving a copy of John Coltrane's book, OM, he was inspired to learn about Jazz and New Music. Early on, he drew on the influence of Coltrane, Miles Davis, Cecil Taylor, Thelonius Monk, and Ornette Coleman. In the late 1970s he was active on the Boston music scene and in 1980 he traveled to Europe where he performed in Belgium and Holland. When he returned to Boston he helped organize the Boston Improvisers Group (BIG). In 1981 he formed his own record company, Riti, and began what would be a six year collaboration with the multi-instrumentalist Lowell Davidson. In the late 1980s he lived and performed in New York City.
Returning to Boston, he performed and recorded with his electric trio and electric quartet. Since the 1990s he has recorded for numerous labels and has toured throughout the U.S., Canada and Europe as a solo and as a leader of a trio and a quartet. He began playing acoustic bass in 2000. He has lectured and conducted workshops throughout the U.S. and Europe and is currently on the faculty at New England Conservatory in the jazz and improvisation department.
About Ned Rothenberg
"Woodwind/saxophone ace Ned Rothenberg has a formidable reputation as an innovator. He also shares the restless eclecticism of colleagues like John Zorn and Anthony Braxton." — Glen Hirshberg, LA Weekly
Composer/Performer Ned Rothenberg has been internationally acclaimed for both his solo and ensemble music, presented for the past 33 years on 5 continents.  He performs primarily on  alto saxophone, clarinet, bass clarinet, and the shakuhachi – an endblown Japanese bamboo flute. His trademark solo technique is self-taught. Rothenberg's musical interests are numerous and his work varies widely in its sonic, emotive and stylistic profiles. He incorporates polyphony and accurate microtonal organization through the manipulation of multiphonics, circular breathing, and overtone control, using his horns both in a normal melodic role and also as rhythmic and harmonic engines in both solo and ensemble contexts.
As a composer he can move from the contemporary classical setting of his Quintet for Clarinet and Strings to "Jazz-funk in cubist perspective, dizzying, yet visceral" (Jon Pareles, NY Times re Double Band) to music that is "intense, slightly melancholic, rhapsodic without being sentimental" (Edward Rothstein, NY Times referring to his solo work). Recent recordings include this Quintet, The World of Odd Harmonics, Ryu Nashi (new music for shakuhachi), and Inner Diaspora, all on John Zorn's Tzadik label, as well as Live at Roulette with Evan Parker,  and The Fell Clutch, on Rothenberg's Animul label.
About Tomeka Reid
"Reid achieves a timbral intensity and rhythmic thrust of the kind usually associated with electrified jazz fusion." – David Whiteis, JazzTimes
Recently described as a "New Jazz Power Source" by the New York Times, cellist and composer Tomeka Reid emerged as one of the most original, versatile, and curious musicians in Chicago's bustling jazz and improvised music community. Now based in New York, her distinctive melodic sensibility, usually braided to a strong sense of groove, has been featured in many distinguished ensembles.
Reid has been a key member of ensembles led by legendary reedists like Anthony Braxton and Roscoe Mitchell, as well as a younger generation of visionaries including flutist Nicole Mitchell, singer Dee Alexander, and drummer Mike Reed. Reid released her debut recording as a bandleader in 2015: the Tomeka Reid Quartet (Jason Roebke, Tomas Fujiwara and Mary Halvorson).
By focusing on developing her craft primarily as a side person and working in countless improvisational contexts, she has achieved a stunning musical maturity. Reid is a 2016 recipient of a 3Arts award in music and received her doctorate in music from the University of Illinois, Urbana- Champaign in 2017.