Event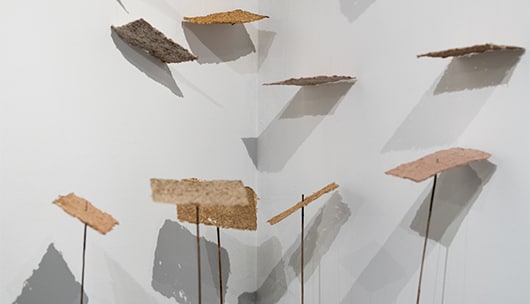 ARTS
Ephemeral Streams, Tangential Currents
Nomad MFA 2022
Real Art Ways presents a group exhibition of work from the 5th cohort of Hartford Art School's Nomad MFA program.
The 8 international artists work in differing media and processes, ranging from sculpture and video to drawing, painting, and performance. Curated by artists and educators Mary Mattingly and Neil Daigle Orians, the exhibition runs concurrently with their thesis projects on display at the University of Hartford's Joseloff Gallery from June 17 – 26. Each artist explores various narratives throughout their work surrounding climate change, ecology, identity, and history. These disparate stories are woven together through their shared experience navigating an advanced degree program during the COVID-19 pandemic.
Featuring work by:
Julie Chen
Kathryn Cooke
Arnethia Douglass
Aiyesha Ghani
Katie Grove
Monica Kapoor
Roberta Trentin
Mauricio Vargas
About the Nomad MFA Program:
The Nomad MFA (Interdisciplinary Master of Fine Arts) is a low-residency, cross-disciplinary program. This course of study prepares artists for a life of engaged studio and civic practice and reflects the dynamic balance of production, inquiry, and cross discipline collaborations in contemporary art, and the world at large. The objective of this MFA is the development of each student's art practice and the creation of an expanded toolkit through our innovative curriculum. This objective is achieved through engaged mentoring and through high-impact, field-based classes in contemporary art, ecology, place and culture, indigenous knowledge systems, and the technology spectrum from craft to code.
Photo Credit: Denis Semenyaka