Event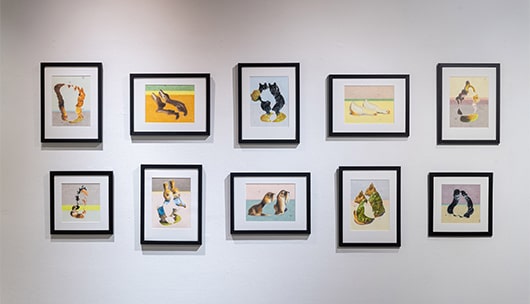 ARTS
Duality: In Unplain Sight
Heather Heckel
Real Art Ways presents a solo exhibition of recent work by 2021 Real Art Award recipient Heather Heckel.
"Due to a complication at birth, my eyes do not work together and I have constant double vision. I see a hyper clear image with my dominant eye, and with my weaker eye I see an overlapping ghost image. My double vision has ignited a lifelong interest in dualities, and how they are apparent in every facet of our lives. In order to make sense of my chaotic visual input I organize my life through minimalism and accuracy, which gets translated through my artistic process. My medium of choice is colored pencil, which I treat as dry paint to achieve accuracy through blending. This collection of artwork demonstrates a progression of my work over the last five years from figurative mirror images, to overlapping objects, to an artist residency that focuses on duality.
The porcelain figurines are portraits of family heirlooms that feature my double vision that is both blurry and sharp. Between each image is an overlapping void that represents how two identical objects cannot occupy the same space at the same time. This often causes me to wonder: which version is the real one?
The series of historical structures and arms were created during an artist residency at Coltsville National Historical Park in Hartford, Connecticut. Coltsville is located on the grounds of the former Colt factory complex, which was used to produce firearms. Samuel Colt sold weapons to both sides of conflicts, and I wanted to emphasize this duality, among others, through double imagery, symmetry, and balance: Win / Loss, Life / Death, Friend / Enemy, Exploitation / Profit. The all-seeing cobalt blue onion dome that sits atop the factory is visible from all areas of Colt Park, and therefore appears repeatedly throughout the drawings. Colt often used European styles of architecture to provide his immigrant workers with a sense of familiarity, as is seen in workers' housing. Gold stars appear throughout because they are painted on the onion dome, and they serve as a symbol for the loss of a service member in combat and are worn by the families of the fallen.
Ultimately, this collection of artwork is representative of an internal shift of being fearful of how the world views my misaligned eyes to becoming confident in sharing my unique view of the world." – Heather Heckel
About the Artist:
Dr. Heather Heckel, EdD is an artist and art educator living in New York City. Her award-winning artwork has been shown internationally, is in several national permanent collections, and is featured regularly in the local Park Slope Reader. She is a lifelong learner who loves to travel, and has been awarded 16 artist residencies through the National Park Service and Bureau of Land Management. She will begin her tenth year of teaching public school art this Fall, and has taught at the middle school, high school, and college levels. She earned her BFA in Illustration from the Ringling College of Art and Design, her MAT in Art Education from the School of Visual Arts, and her MFA in Painting from the Savannah College of Art and Design. This year she earned her Doctor of Education degree in Educational Leadership from the University of the Cumberlands, where her research investigated the relationships between art education, leadership, and creativity. She is a member of the Society of Illustrators and the New York State Art Teachers Association.
About the Real Art Awards:
The Real Art Awards is an annual opportunity for emerging artists living in New England, New Jersey, or New York. The open call, offered with no entry fees to artists, attracts hundreds of applicants each year, of which 6 artists are chosen. Selected artists receive a solo exhibition, with a commissioned essay, professional documentation, and a cash prize of $2,500. The 2021 Real Art Awards was juried by artist and writer Kameelah Janan Rasheed; Hasan Elahi, artist and Director of the School of Art at George Mason University; and Real Art Ways Executive Director Will K. Wilkins. The 2021 Real Art Awards is supported in part by an award from the National Endowment for the Arts.