Event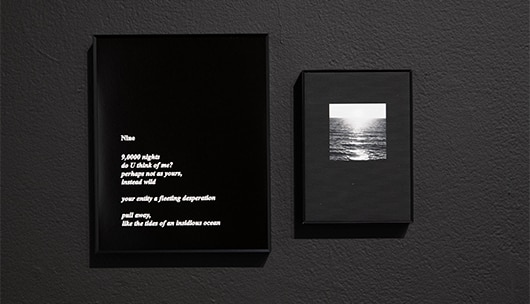 ARTS
Dreaming in Black & White
Deep Pool
Real Art Ways presents a solo exhibition of recent work by 2021 Real Art Award recipient Deep Pool.
"Precious and dark, Dreaming in Black & White reckons with maternity, unrequited feelings, and personal understanding of femininity. Combining digital imaging, screen shots, video stills, and both analogue and cell phone photography, the work presents echoes of the past, and ellipses into the future. These small portals resist resolution, embracing dissonance and generative confusion.
Dreaming in Black & White is a compilation of monochromic images spanning from a seven year archive (2016–2022). Often re-visited and re-mixed, Dreaming in Black & White is an homage to my photographic background, (short) life span of ritual, and ultimate effort to reconcile with my past, while acknowledging its inherent ephemerality." – Deep Pool
Download a PDF of the show publication HERE. Featuring an essay by poet Morgan Võ.
About the Artist:
Deep Pool (b.1997) is an image maker and self-identifying "trans-disciplinary" artist. Informed by their upbringing as a transcontinental adoptee and their current gender transition, Deep Pool makes meaning with the reality of one's identity being undetermined and in flux. The moniker "Deep Pool" is a rough English translation of their given name at birth, "Ji Tan."
Most notably, Deep Pool is the recipient of the 2022 New York Community Trust Van Lier Fellowship at Wave Hill. They have exhibited in Richmond, VA; New Brunswick, NJ; Berlin, Germany; and have a forthcoming solo show in the Bronx, NY. Deep Pool graduated with a BFA from Virginia Commonwealth University School of the Arts, and currently lives and works out of Queens, NY.
About the Real Art Awards:
The Real Art Awards is an annual opportunity for emerging artists living in New England, New Jersey, or New York. The open call, offered with no entry fees to artists, attracts hundreds of applicants each year, of which 6 artists are chosen. Selected artists receive a solo exhibition, with a commissioned essay, professional documentation, and a cash prize of $2,500. The 2021 Real Art Awards was juried by artist and writer Kameelah Janan Rasheed; Hasan Elahi, artist and Director of the School of Art at George Mason University; and Real Art Ways Executive Director Will K. Wilkins. The 2021 Real Art Awards is supported in part by an award from the National Endowment for the Arts.
Photo Credit: John Groo