Event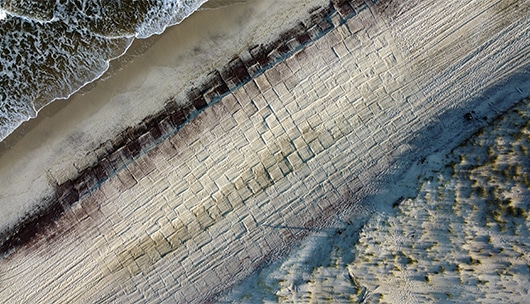 ARTS
Dishonest Dancers
Jesús Hilario-Reyes
Real Art Ways presents an exhibit by interdisciplinary artist Jesús Hilario-Reyes.
Hilario-Reyes shares Dishonest Dancers, a video installation of two related bodies of work. Informed by scholar Yomaira Figueroa's concept of 'destierro' – through which Figueroa articulates a condition of being 'torn from the land' – Dishonest Dancers finds Hilario-Reyes taking a remedial approach, while exploring ideas of Black and queer fugitivity. The exhibited works include video documentation of multiple iterations of Crossing(s), the artist's series of ephemeral land works. Alongside footage of these "sand weaving" events, Hilario-Reyes displays Untitled, an animated series of "digital quilts" constructed from three-dimensional scans of dance floors after nights of transportive dancing. Developed as a partial archive of evidence gesturing toward queer utopia, the series incorporates club and rave spaces at the center of queer communities, as well as potential spaces, moving bodies, and bodies of water. This work largely contends with truth, applying scholar Saidiya Hartman's concept of 'critical fabulation' as a means to rupture or complicate reality.
This project is supported in part by the National Performance Network Artist Engagement Fund.
About the Artist:
Jesús Hilario-Reyes (b. 1996) is an artist born in San Juan, Puerto Rico, whose parents emigrated from the Dominican Republic. Hilario-Reyes holds a BFA from the School of the Art Institute of Chicago. They are a recent recipient of the Drawing a Blank Artist Grant, the Leslie Lohman Fellowship, the Lighthouse Works Fellowship (2022) and the Bemis Center Residency program (2022). Hilario-Reyes has exhibited/screened both nationally and internationally, most notably at the Museum of Contemporary Art Chicago, Black Star Film Festival and Mana Contemporary. While situating their practice at the crossroads of sonic performance, land installation, and expanded cinema, their iterative works examine carnival and rave culture throughout the West. Taking a satirical and remedial approach to the effects of 'destierro', they simultaneously explore the impossibility of the Black body, and examine the failures of mechanical optics.