Event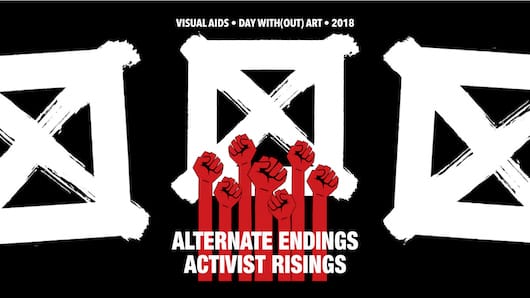 ARTS
Day With(out) Art: Alternate Endings, Activist Rising
Real Art Ways is partnering with Visual AIDS and AIDSCT (ACT) on the 29th annual Day With(out) Art, for a one-night film screening of Alternate Endings, Activist Rising and a round table community discussion to follow.
Taking place in our video gallery, this is a special opportunity to compare and contrast the various methods and programs presented in the film with local organizers and activists here in Hartford. 
Deputy Director of ACT, Shawn Lang and Real Art Ways Visual Arts Coordinator, Neil Daigle Orians will help lead the roundtable talk asking critical questions such as: How is the AIDS crisis still affecting us in Hartford and Connecticut, and what are people doing about it? 
Visual AIDS is the only arts organization fully committed to raising AIDS awareness and creating dialogue around HIV issues today.  They produce and present work, assist artists living with HIV/AIDS, and have a commitment to preserving and honoring the work of artists with HIV/AIDS and the artistic contributions of the AIDS movement.
ACT, with its partners, increases Connecticut's capacity to ensure that all people impacted by HIV/AIDS and related health issues have access to health, housing and support services.
Free Admission.
All are invited to attend and add to the conversation.
About the film
Alternate Endings, Activist Rising highlights the impact of art in AIDS activism and advocacy today by commissioning compelling short videos from six inspiring community organizations and collectives—ACT UP NY, Positive Women's Network, Sero Project, The SPOT, Tacoma Action Collective, and VOCAL NY. The program represents a wide range of organizational strategies, from direct action to grassroots service providers to nation-wide movement building, while considering the role of creative practices in activist responses to the ongoing AIDS crisis.
The film seeks to reflect the persisting urgencies of today's HIV/AIDS epidemic by pointing to pressing and intersecting political concerns, including:
– HIV criminalization
– Big Pharma
– homelessness
– and the disproportionate effects of HIV on marginalized communities.
At a moment of growing interest in the histories of AIDS activism, Alternate Endings, Activist Rising foregrounds contemporary engagements between activists, artists, and cultural workers on the front lines.