Event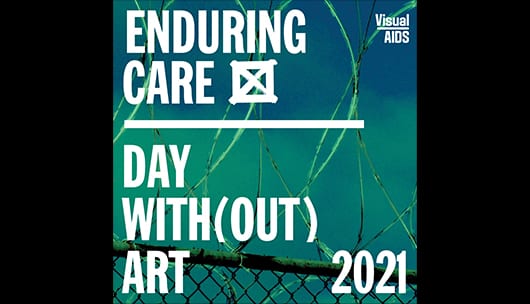 ARTS
ENDURING CARE
Day With(out) Art 2021
Real Art Ways is proud to partner with Visual AIDS for Day With(out) Art 2021 by presenting ENDURING CARE, a program of seven new videos highlighting community care within the ongoing HIV crisis.
For one week starting Wednesday, December 1st (World AIDS Day), Real Art Ways will show the ENDURING CARE program as a looping presentation in our video room.
To watch the program online, please visit: visualaids.org/enduringcare
Visual AIDS presents ENDURING CARE, a video program highlighting strategies of community care within the ongoing HIV epidemic. The program features newly commissioned work by Katherine Cheairs, Cristóbal Guerra, Danny Kilbride, Abdul-Aliy A. Muhammad and Uriah Bussey, Beto Pérez, Steed Taylor, and J Triangular and the Women's Video Support Project.
From histories of harm reduction and prison activism to the long-term effects of HIV medication, ENDURING CARE centers stories of collective care, mutual aid, and solidarity while pointing to the negligence of governments and non-profits. The program's title suggests a dual meaning, honoring the perseverance and commitment of care workers yet also addressing the potential for harm from medications and healthcare providers. ENDURING CARE disrupts the assumption that an epidemic can be solved with pharmaceuticals alone, recasting community work as a lasting form of medicine.
Welcoming You Back Safely:
As you return to our physical space, your health and safety is our top priority. To learn about all the steps we have taken to prepare and our new procedures visit our Welcoming You Back page.