Event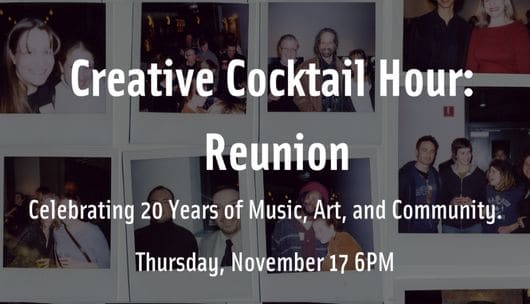 EVENTS
Creative Cocktail Hour: Reunion
Join us for the 20th anniversary of Creative Cocktail Hour on November 17, 2022 6-10pm.
Celebrating 20 years of community and expression!
Creative Cocktail Hour is about the people. Everybody is welcome, conversations abound, people connect.
Music:
QWANQWA is a supergroup of musicians from the baddest ensembles of Addis Ababa. Brought together by a shared passion for the power of Ethiopian music, this group shines an experimentalism based in the virtuosity of rooted traditions. With swirling masinko (one-stringed fiddle), wah-wah-violin, bass krar boom, and the unstoppable rhythm of heavy kebero (goat-skin drum) beats, powerful traditional lead African diva vocals, QWANQWA keeps the people wrapped in celebratory attention. After making a splash at world renowned festivals Roskilde and WOMEX, and after 3 European tours under their belt, this world traveling ensemble is hitting the road for a MacArthur Foundation backed Debut US tour in 2022.
QWANQWA draws inspiration from East Africa regions of Ethiopia and beyond. Delving deep into regional beats and moods, the repertoire ranges from a trance-like song of the Eritrean tribe of Blen to a Somalian rock number to Mahmoud Ahmed sing-a-longs. The music is characterized by tight arrangements and extended experimental moments. The live show ranges from intimate to wild, from whispery conversations to full blown rock show, and it is hard to believe these psychedelic sounds are coming from traditional harp and violin. It is driving, powerful, and different than anything else coming out of Ethiopia at this current Golden Age of Ethiopian music.
To learn more about QWANQWA, click here.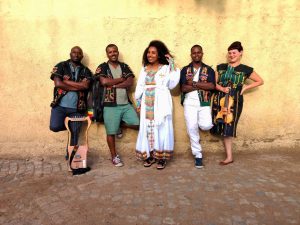 DJ Mr. Realistic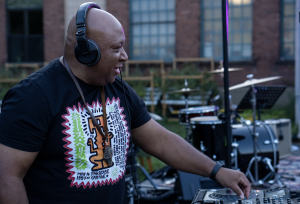 Art Exhibitions from:
Howard el-Yasin
Joe Bun Keo
Rashmi Talpade
Danny Giles
Food Truck
Hands-on Art Making Activities
& You!
Buy your tickets online!