Event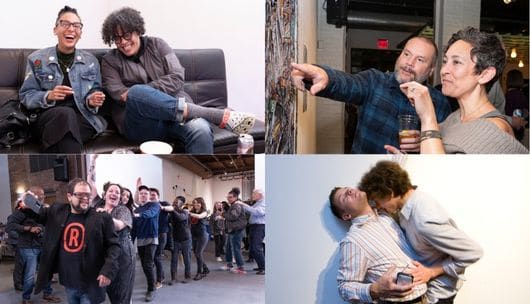 Live music, art exhibitions, food and drinks, and you. Come as you are!
Creative Cocktail Hour is about the people. Everybody is welcome, conversations abound, people connect.
Live Music:
Elliott Sharp and Eric Mingus: Longtime collaborators, Mingus and Sharp have worked together for decades in a dizzying variety of musical situations culminating in their distinctive duo project Fourth Blood Moon in which they create a mashup of poetics, electronica, blues, opera, improvisation, funk, and the cosmic.  They will be performing songs from their latest album on zOaR, Songs From A Rogue State with Mingus on vocals and Elliott Sharp on guitar and laptop.
Elliot Sharp is a 2014 Guggenheim Fellow, and a 2014 Fellow at Parson's Center for Transformative Media. He received the 2015 Berlin Prize in Musical Composition from the American Academy in Berlin. He has composed scores for feature films and documentaries, created sound-design for interstitials on The Sundance Channel, MTV and Bravo networks, and has presented numerous sound installations in art galleries and museums.
Eric Mingus is the son of the legendary jazz bass player, Charles Mingus, who also plays bass! When not performing with Sharp, he works as a session musician and backing singer, playing on dates with artists such as Carla Bley, Bobby McFerrin and Karen Mantler.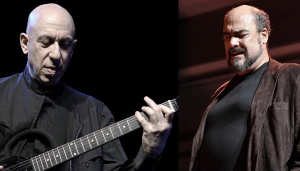 DJ Mr. Realistic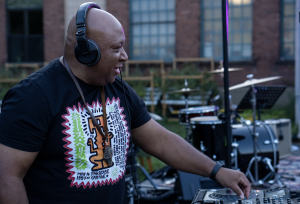 Art Exhibitions:
Kate Bae: A Rite of Passage
Rashmi Talpade: Every Little Thing 
Howard el-Yasin: Specific Matter
Hands-on Art Making Activities
Food Truck: East-West Grille (Laotian and Thai food with vegan and vegetarian options)
& You!
Creative Cocktail Hour is about community and expression. We'd love for you to be a part of it this month!
Buy your tickets online!