Event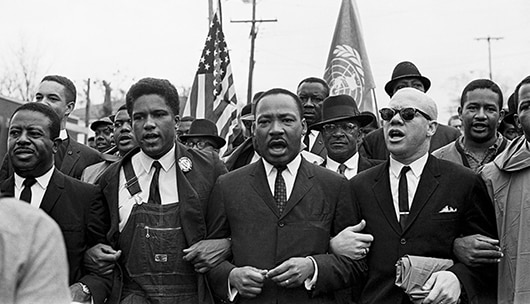 EVENTS
Community Film Screenings
You are invited to experience three documentary films that brilliantly evoke the Civil Rights Movement in ways that all ages can appreciate. 
– Free Admission
– In honor of Martin Luther King, Jr. Day
11 AM | Mighty Times: The Legacy of Rosa Parks (40 min.)                                        Rosa Parks' simple act of defiance on Dec. 1, 1955, against racial segregation on city buses inspired the African American community of Montgomery, Alabama, to unite against the segregationists who ran City Hall. Over the course of a year, the Montgomery Bus Boycott would test the endurance of the peaceful protestors, overturn an unjust law and create a legacy of mighty times that continue to inspire those who work for freedom and justice today. A project of the Southern Poverty Law Center.
12 PM | Selma: The Bridge to the Ballot (40 min.)                                                             This film tells the story of a courageous group of students and teachers who, along with other activists, fought a nonviolent battle to win voting rights for African Americans in the South. Standing in their way: a century of Jim Crow, a resistant and segregationist state, and a federal government slow to fully embrace equality. By organizing and marching bravely in the face of intimidation, violence, arrest and even murder, these change-makers achieved one of the most significant victories of the civil rights era.
1 PM | Soundtrack for a Revolution (80 min.)                                                                     A fresh and exhilarating take on one of the most important social movements in American history, Soundtrack for a Revolution explores the Civil Rights Movement, brought to life by the music that it inspired, and that inspired it. Sung by some of today.s greatest artists: John Legend, Joss Stone, Wyclef Jean, The Roots, & more.
More than 3,000 students view these films in our Film Field Trip Program every year.
Come for one or stay for all three.