Event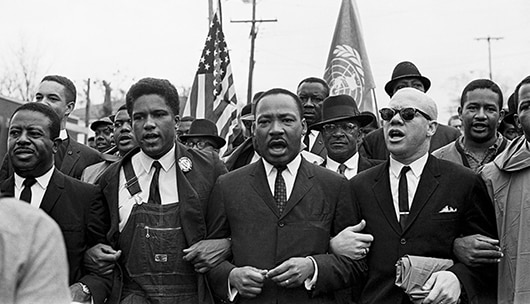 EVENTS
Community Film Screenings: In Honor of Martin Luther King, Jr. Day
You are invited to experience three documentary films that explore the Civil Rights Movement in ways that all ages can appreciate. Featuring a guided discussion with film facilitator Derek Hall. 
Free Admission! All ages are welcome. 
Come for one film or stay all day!
Programming
11 AM | Mighty Times: The Children's March (40 min.)
The mostly unheard story of the youth of Birmingham, Alabama, who braved fire hoses police dogs and jail in 1963 to bring segregation to its knees.
12 PM | Selma: The Bridge to the Ballot (40 min.)
This film tells the story of a courageous group of students and teachers who, along with other activists, fought a nonviolent battle to win voting rights for African Americans in the South. Standing in their way: a century of Jim Crow, a resistant and segregationist state, and a federal government slow to fully embrace equality. By organizing and marching bravely in the face of intimidation, violence, arrest and even murder, these change-makers achieved one of the most significant victories of the civil rights era.
1 PM | Facilitated Discussion with Derek Hall
Hall will lead those present in a discussion about the two films.
2 PM | Soundtrack for a Revolution (80 min.)
A fresh and exhilarating take on one of the most important social movements in American history, Soundtrack for a Revolution explores the Civil Rights Movement, brought to life by the music that it inspired, and that inspired it. Sung by some of today.s greatest artists: John Legend, Joss Stone, Wyclef Jean, The Roots, & more.
3:30 PM | Guided Discussion led by Film Facilitator Derek Hall
Hall will lead those present in a discussion about Soundtrack for a Revolution. 
Art-Making Activities Throughout the Event!
There will be a table with art activities open throughout the event! Great for all ages – drop in at any time!
Lunch
Bagged lunch will be available for purchase or bring your own lunch!
About Derek Hall:
Derek Hall is a dynamic anti-racist intergroup dialogue facilitator, public speaker, and activist committed to challenging beliefs and institutional culture rooted in systemic racism and other forms of oppression. Derek has worked in the diversity, equity, and inclusion field for over fifteen years, partnering with public and private school systems, for profit and non-profit organizations both locally and nationally.
His passion for decolonized education, human connection, and implementation of racial equity strategies has inspired sustainable change at the internal, interpersonal and institutional levels within the organizations he works with. In 2019, Derek transitioned into his current role as Racial Equity Consultant & Coach with Ramiz Hall Consulting LLC where, believing that "changed people change systems", he uses his gifts of facilitation, storytelling and community building to increase the racial & social consciousness of individuals and organizations. For more information on Ramiz Hall Consulting LLC, please visit www.ramizhallconsulting.com.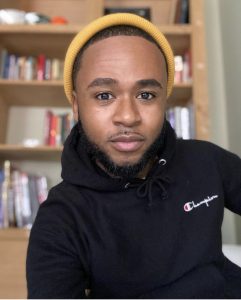 Thousands of students view these films in Real Art Ways' Film Field Trip Program.