Event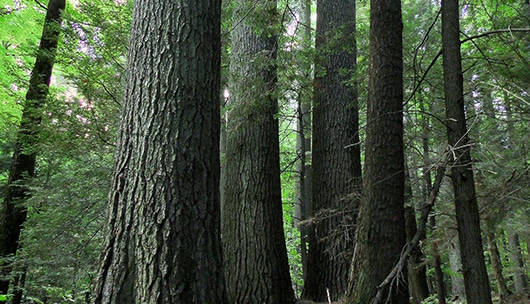 EVENTS
Celebrating Olmsted & Old-Growth Forests in Connecticut
Have you ever been to an old-growth forest? Did you know that old-growth forests have trees of all ages? Or that we have "old-growth" and almost old-growth here in Connecticut? The recovery of temperate forests in New England is the most successful example of reforestation in the world and we are recognized as part of the "Global Safety Net."
Join experts and community members for all or part of this free public event: a field trip through the landscape of Olmsted's childhood, a lunch, and a documentary on old-growth forests in New England. After the film there will be a short panel discussion and Q & A featuring:
Dr. Joan Maloof, Professor Emeritus and Founder of the Old Growth Forest Network
Bob Leverett, Co-founder of the Native Tree Society; co-author of The Sierra Club Guide to Ancient Forests of the Northeast
Matt "Twig" Largess, Owner and Founder of Largess Forestry, ISA Certified NE-0802
Jack Ruddat, student researcher on Connecticut's old-growth forests
10am: meet at the Keney Park Wood Materials Management Site at 392 Tower Ave, Hartford, for a walk-in the 10 Mile Woods, the childhood playground of Frederick Law Olmsted.
12:15pm noon lunch and book signing by Dr. Joan Maloof at Real Art Ways. "Among the Ancients: Adventures in the Eastern Old-Growth Forests."
1:15pm screening of "The Lost Forests of New England," introduced by filmmaker Ray Asselin followed by expert Q & A.
All events are free of charge. Registration strongly encouraged. Seriously bad weather cancels the walk. The lunch, book event and film will continue.
"The Lost Forests of New England" was released in 2018 and has been viewed by audiences throughout New England.
Leading experts and outstanding drone videography help tell the story of our forests before European settlement, what changes have taken place, and how old-growth in New England was "discovered."
Organized in conjunction with Susan A. Masino, Vernon D. Roosa Professor of Applied Science at Trinity College and Old Growth Forest Network Coordinator for Hartford County.
Dr. Masino's research focuses on promoting and restoring brain health, with a particular interest in the relationship among metabolism, brain activity and behavior. In addition to her laboratory research Dr. Masino is interested in how public policies can improve brain health – with a special focus on New England's amazing forests – and is involved in local educational and environmental issues. During 2018-2019 she was a Charles Bullard Fellow in Forest Research at Harvard and published the seminal paper on proforestation for climate change mitigation, biodiversity, and public health.