Event
Live music, art exhibitions, food and drinks, and you. Come as you are.
Creative Cocktail Hour is about the people. Everybody is welcome, conversations abound, people connect.
Music:
Tipa Tipo (NYC/Lima) is a retro pop trio that fuses the spirit of 70s soft rock with latin rhythms and a modern analog production style. Their debut EP "El Chari" (with the single Voy Por Ella) is an homage to the electric pianos and lush arrangements of California yacht rock, but reimagined with Spanish lyrics and a feminist sensibility. The band is a wife-and husband collaboration between producers Adele Fournet (vocals, keys) and Felipe Wurst (vocals, guitars) who first met in 2010 in the Limeñan indie pop scene. They play live as a trio with Jordan Auber on drums, and the contagious disco energy of their live show has earned them a 2022 Wavy Award nomination for Best Live Performance. Their latest EP, "2 Al Azar," came out in May and they are currently recording their first full-length album. Since their debut in 2021, Tipa Tipo has drawn attention from music journalists in Peru (Rock Achorao, Conciertos Perú) and Mexico (Milenio, Playlist Magazine, Reforma, IndieRocks!), and their songs have been featured on official Spotify playlists including Canción del Día, Dreamy, and Novedades Indie, as well as NPR's Best New Latinx. They have played live in NYC at Elsewhere, The Sultan Room, Mercury Lounge, C'Mon Everybody, Trans Pecos and more.
To learn more about Tipa Tipo, click here.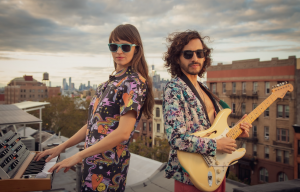 Art Exhibitions
Food Truck: East West Grille 
Hands-on Art Making Activities
& You!
Creative Cocktail Hour is about community and expression.
Buy your tickets online and skip the line at the door!