Event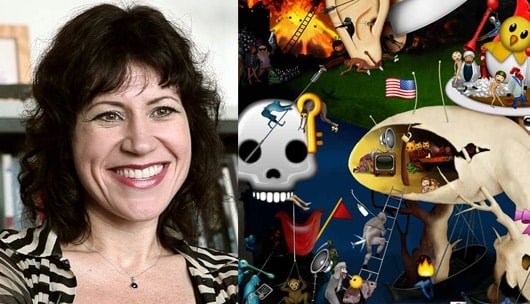 ARTS
Carla Gannis: Artist Talk
Artist Carla Gannis will discuss the process and concepts behind her recent work The Garden of Emoji Delights, currently on display in the Real Room.
Collaged signs & symbols of everyday virtual speech, commonly known as Emojis, make up Gannis' contemporary reinterpretation of Hieronymous Bosch's 16th century masterpiece The Garden of Earthly Delights.
The massive digital c-print matches the scale and proportion of the original piece. Gannis, a resident of Brooklyn and a Professor of Digital Art at Pratt Institute, said she wanted to explore the way "popular customs and communications…can be integrated into art."
Read more about the piece in the Hartford Courant, here: http://www.courant.com/entertainment/museums-galleries/hc-emoji-art-hartford-1030-20151029-story.html
This event is free and open to the public.
About the artist
Carla Gannis, originally from Oxford, North Carolina, today lives and works in Brooklyn, New York. She received a BFA in painting from The University of North Carolina at Greensboro and an MFA in painting from Boston University. In the late 1990s she began to incorporate digital technologies into her work, and in 2005 she was awarded a New York Foundation for the Arts (NYFA) Grant in Computer Arts. Currently she is a professor and assistant chairperson of The Department of Digital Arts at Pratt Institute.