Event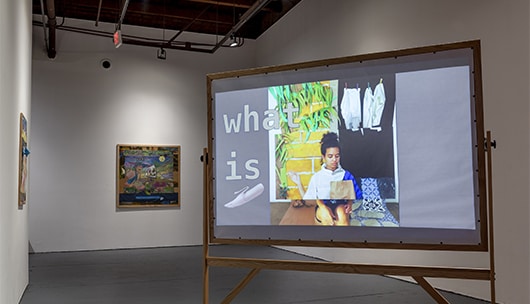 ARTS
Can You Repeat the Question?
Chantal Feitosa
Real Art Ways presents a solo exhibition of new work by 2020 Real Art Award recipient Chantal Feitosa. 
Chantal Feitosa's exhibition, Can You Repeat the Question?, utilizes the aesthetics of elementary school education and classrooms to explore complicated racial identities in Brazilian culture. Feitosa's work uses a 1976 survey of Brazilian households to inform its content. When given the opportunity to self-identify their skin color and identity, Brazilians across the country came up with 136 unique labels and definitions, many of which are names of foods. Feitosa has taken this list and created decks of flash cards, video, drawings, and an interactive website allowing viewers to engage in her ideas as if they are her students in a classroom setting.
Artist's statement:
"The projects on view blend contrasting cultural references tied to race relations within Brazil, the United States and the first generation immigrant experience. The exhibition's central video piece, "Brown Bag Lunch," merges early childhood learning, a 1976 Brazilian survey documenting the population's nuanced descriptions of race, and a re-staging of Modesto Broco's 19th century painting "Ham's Redemption." The characters displayed across the drawing series, "Mind Maps," are modeled after the Brazilian Namoradeira doll and depict bodies that are free to wander physically, emotionally, and mentally. These figures refuse to be easily legible or digested for the pleasure of outsiders.
This is for all the slow thinkers and classroom daydreamers who watched from the window side of the classroom. It is for all who watched in confused spite as white boys were granted extended time to breeze by all the ivory pages of standardized exam booklets. I broke the arms off all the clocks, so your mind can wander all day until you're ready to respond."
About the Real Art Awards:
The Real Art Awards is an annual opportunity for emerging artists living in New England, New Jersey, or New York. The open call, offered with no entry fees to artists, attracts hundreds of applicants each year, of which 6 artists are chosen. Selected artists receive a solo exhibition, with a commissioned essay, professional documentation, and a cash prize of $2,500. The 2020 Real Art Awards was juried by artist and educator Mary Mattingly, Director of the Laundromat Project Kemi Ilesanmi, and Real Art Ways Executive Director Will K. Wilkins. The 2020 Real Art Awards is supported in part by an award from the National Endowment for the Arts and an Excellence in the Arts award from the Edward C. and Ann T. Roberts Foundation. Visual arts at Real Art Ways is supported by the Andy Warhol Foundation for Contemporary Art.
Welcoming You Back Safely:
As you return to our physical space, your health and safety is our top priority. To learn about all the steps we have taken to prepare and our new procedures visit our Welcoming You Back page.
Photo Credit: John Groo