Event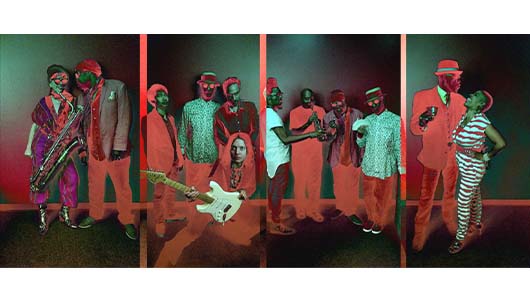 ARTS
Burnt Sugar Arkestra
& The Veldt
"Orange Sunshine & Liquid Love Lines"
Burnt Sugar Arkestra & The Veldt
As featured in The New Yorker, BBC,
Rolling Stone, and The Guardian.
Four sets, three hours of brilliant, iconoclastic music,
five art exhibitions, two food trucks, DJ Mr. Realistic.
Music starts at 2pm.
"A multiracial jam army that freestyles with cool telekinesis between the lustrous menace of Miles Davis' On The Corner, the slash-and-om of 1970s King Crimson, and Jimi Hendrix' moonwalk across side three of Electric Ladyland." – Rolling Stone
A territory band, a neo-tribal thang, a community hang, a society music guild aspiring to the condition of all that is molten, glacial, racial, spacial, oceanic, mythic, antiphonal and telepathic. Spicy grooves and lyrics with some "bark" on them are their passions.
Butch Morris's Conduction System for Orchestral Improvisation is the preferred mode of channeling for this Gotham-based ensemble of pan-ethnic sound warriors.
Burnt Sugar The Arkestra Chamber:
Lewis "Flip" Barnes – trumpets
Ben Tyree – guitar
Leon Gruenbaum – keys
Shelley Nicole – vocals, percussion
Greg Tate – conduction
Andre Lassalle – guitar
V. Jeffrey Smith – saxophone, vocals
Bruce Mack – keyboard, vocals
Paula Henderson – saxophone
Abby Dobson – vocals
Jared Michael Nickerson – bass guitar
LaFrae Sci – drums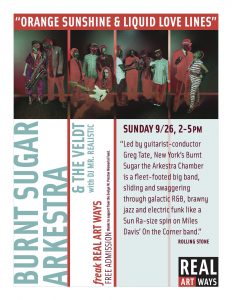 The Veldt (from Raleigh N.C.):
Daniel Chavis – guitar/ vocals
Danny Chavis – lead/ guitar
Martin Newman – guitar/ effects
Alex Cox – bass/ loops
Dale Miller – drums/ loops
"With Danny's enveloping hooks, Daniel's swooning falsetto… the new songs invite paradoxical praise: serenely assaultive, vertiginously soothing." – The Guardian
DJ Mr. Realistic will be opening.
Food trucks: Bloom Kitchen & Co., Southern Bell Soul Food.
Support for this event comes from the Evelyn W. Preston Memorial Trust Fund, Bank of America, N.A., Trustee.
Learn more about the Burnt Sugar and The Veldt.