Event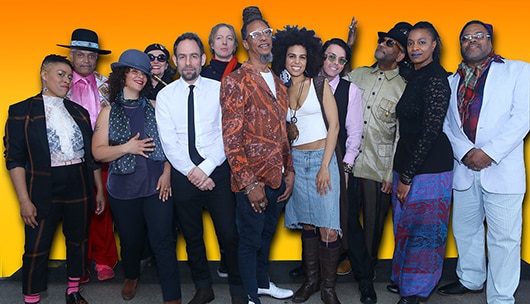 Live Music All Day. Food Trucks. Activities For All Ages.

The Burnt Sugar Smokehouse: Spicy grooves and lyrics with some "bark" on them are their passions.
"Led by guitarist-conductor Greg Tate, New York's Burnt Sugar the Arkestra Chamber is a fleet-footed big band, sliding and swaggering through galactic R&B, brawny jazz and electric funk like a Sun Ra-size spin on Miles Davis' On the Corner band." – David Fricke Rolling Stone
The sixteen-piece Burnt Sugar Arkestra (BSA) is the main entrée of the day, opening the event at 2 PM and then bringing it home from 6-9 PM.
From 2:30-5:30 PM, enjoy short sets by these tasty side dishes (all BSA member bands):
– Digital Diaspora
– Rivers On Mars
– Creative Apocalypse
– Dope Sagittarius
– BT3
– André Lassalle's Premonition
Support for this event comes from the Evelyn W. Preston Memorial Trust Fund, Bank of America, N.A., Trustee.