Event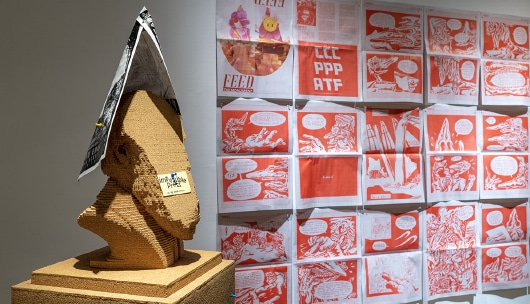 ARTS
Body Memory: A Conversation
To register for this free event, click here.
Real Art Ways presents a conversation between Statues Also Die curator Sarah Fritchey, writer and curator TK Smith, and others TBA surrounding bodies, monuments, and memory.
In conjunction with the closing of Statues Also Die and the release of ART PAPERS' Fall/Winter issue, Monumental Interventions, this panel will explore the complicated topics addressed in both.
The individual body is a receptacle for memory, the site of action, and the vessel through which we experience the world. The physical body, like memory itself, is vulnerable, ephemeral, and prone to change. How do artists engage memory and the body in their art? How can a return to the body revolutionize how we collectively tell histories, memorialize, and construct monuments? What happens to the body when it is rendered in stone?
Registration is required for this Zoom event, and will be livestreamed to Facebook.
About the panelists:
TK Smith is a Philadelphia-based writer, art critic, and curator. Most recently, Smith co-edited Monumental Interventions, the Fall/ Winter 2020 issue of ART PAPERS that explores where the concerns of art intersect with those of monument and memorial. He is the curator of Virtual Remains, a group exhibition of Atlanta-based artists opening at the Atlanta Contemporary in 2021. He is currently a PhD candidate in the History of American Civilization program at the University of Delaware, where he researches art, material culture, and the built environment.
Sarah Fritchey is a curator and writer based in New Haven, CT. She has curated projects at UMass Amherst, Queens College, The African American Museum in Philadelphia, and Franklin Street Works. Sarah is a contributor to ArtForum.com, Hyperallergic, Art New England Magazine, and Big Red & Shiny. Her practice focuses on under-represented histories, and the cultivation of an exhibition space as a site for cultural exchange, debate, education and experimentation. Born and raised outside of Philadelphia, Sarah holds an M.A. in Curatorial Studies from the Center for Curatorial Studies at Bard College, and a B.A. in Comparative Literature and Studio Art from Hamilton College, NY.
More panelists TBA.