Event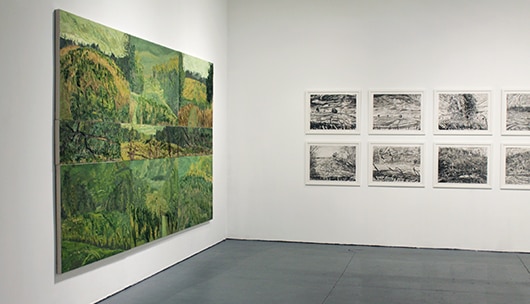 ARTS
Battlegrounds
Elizabeth Flood
Real Art Ways presents a solo exhibition of recent work by 2021 Real Art Award recipient Elizabeth Flood.
Through her ongoing practice of painting outdoors in the elements, Flood surveys complex layers of extraction, violence, and expression within the American landscape. The artworks in the exhibition were made at Civil War battlefields in Gettysburg, Pennsylvania and Chancellorsville, Virginia, and at the U.S. Capitol. These works commune with and bear witness to the land: they look at past scars to grieve, to learn, to forecast future impact, and to keep watch over a country and land in crisis.
Battlegrounds is built around a body of work made over the last year and a half, comprising six paintings and eighteen drawings. Together, these artworks express the chaos of our current national landscape and the emotional weight of the charged terrain Flood depicts. The black and white ink drawings are tangled and urgent, each a watchful and restless representation of the battlefields as they exist today. The paintings are atmospheric and embodied, drawing color from witness boulders, local flora, and the earth itself. Their surfaces are gritty reliefs, connoting calluses, cast iron plaques, or imagined burials for those who perished nearby. Flood's largest painting, "Battlefield (Chancellorsville, summer)," consists of nine separate panels and incorporates grasses from the battlefield into humid August greens. Combining different vantage points and elevations into one turbulent cycle, it grapples with a painful past and present.
About The Artist:
Elizabeth Flood was born on Long Island and grew up in Stafford, Virginia. She studied History, Religion, and Studio Art at the University of Virginia where she earned her BA in 2014. Flood attended Boston University for graduate school where she earned her MFA in Painting in 2019. She attended the Mount Gretna School of Art in 2014-2015 and taught painting there during the summer of 2020 while she was on faculty at Colgate University (2019-2021). In 2019, Flood was a participant at the Skowhegan School of Painting and Sculpture and was an artist-in-residence at the Studios at MASS MoCA. She is currently a 2021-2022 fellow at the Fine Arts Work Center in Provincetown, MA where she will have a solo exhibition in March. Her work is currently on view at Exeter Gallery in Baltimore in a two person exhibition with Bradley Milligan and has been exhibited in several group exhibitions throughout the Northeast. Flood is the recipient of several grants and awards including the Elizabeth Greenshields Foundation Grant, the Virginia Museum of Fine Arts Graduate Fellowship, and the John Walker Alumni Award at Boston University.
About the Real Art Awards:
The Real Art Awards is an annual opportunity for emerging artists living in New England, New Jersey, or New York. The open call, offered with no entry fees to artists, attracts hundreds of applicants each year, of which 6 artists are chosen. Selected artists receive a solo exhibition, with a commissioned essay, professional documentation, and a cash prize of $2,500. The 2021 Real Art Awards was juried by artist and writer Kameelah Janan Rasheed; Hasan Elahi, artist and Director of the School of Art at George Mason University; and Real Art Ways Executive Director Will K. Wilkins. The 2021 Real Art Awards is supported in part by an award from the National Endowment for the Arts.
Welcoming You Back Safely:
As you return to our physical space, your health and safety is our top priority. To learn about all the steps we have taken to prepare and our new procedures visit our Welcoming You Back page.
Photo Credit: John Groo