Event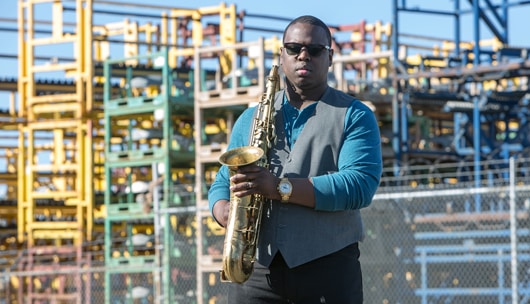 EVENTS
August Creative Cocktail Hour
Come with friends, or come by yourself.
Everyone is welcome, all ages, all backgrounds –
on the third Thursday of every month.
This month we're excited to feature:
Exhibition on view:
Noah Loesberg: Night Work
– KNMDK Dance Collective
De'Sean Jones, from the internationally-renowned dance-music project, D3, leads this quartet that combines jazz with west-african rhythms and EDM to create the optimum soundscape for a weather-perfect August evening. With leader De'Sean Jones on tenor sax, MIkele Montoli on bass, Ashton Thomas on drums and Foluso Mimy on percussion.
– DJ Shaki
Shaki comes to us from New Haven, spinning rare and exhilarating vinyl from around the world. Every month, you can catch Shaki on-air at the long running community radio station WPKN 89.5FM, broadcasting from Bridgeport, Connecticut, and reaching the far corners of this world.

– Mercado Food Truck
– Bicyclists – Ride to Creative Cocktail Hour and get in for $5. RAW members on bikes get in free.
Community. Connections. Creativity.