Event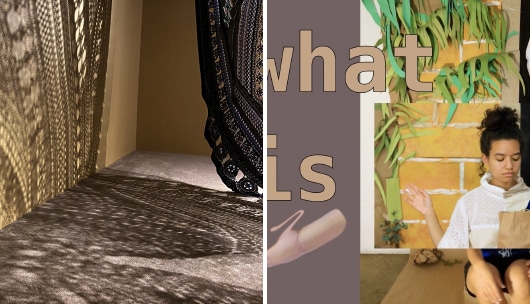 ARTS
Artist Reception
Chantal Feitosa and Daniela Puliti
All are welcome to the opening reception for Real Art Awards recipients Daniela Puliti and Chantal Feitosa and their respective solo exhibitions, There were no casseroles… and Can You Repeat The Question?. Both artists represent Real Art Ways' mission of supporting innovative emerging artists early in their careers. There is no admission fee to attend this event.
From Daniela's statement:
"This work gave me something to live for when hope lost out. It speaks to the everlasting love I have for my person and the disenfranchised grief associated with his loss. As we emerge from this pandemic we do so with individual and collective PTSD. This exhibition serves as an invitation for healing, for all who have passed, Covid-related or not, and those of us who remain."
From Chantal's statement:
"This is for all the slow thinkers and classroom daydreamers who watched from the window side of the classroom. It is for all who watched in confused spite as white boys were granted extended time to breeze by all the ivory pages of standardized exam booklets. I broke the arms off all the clocks, so your mind can wander all day until you're ready to respond."
We want to take a moment to reassure you how seriously Real Art Ways takes visitor and employee health. With the rise of the Delta variant, visitors have been asked to mask, and we provide masks for any who might not have them. As of 8/11, the Mayor of Hartford has instituted a mask mandate, along with other directives for public spaces, and we are following his lead. All visitors must wear masks. You can visit our Welcome Back page for more information.
About the Real Art Awards:
The Real Art Awards is an annual opportunity for emerging artists living in New England, New Jersey, or New York. The open call, offered with no entry fees to artists, attracts hundreds of applicants each year, of which 6 artists are chosen. Selected artists receive a solo exhibition, with a commissioned essay, professional documentation, and a cash prize of $2,500. The 2020 Real Art Awards was juried by artist and educator Mary Mattingly, Director of the Laundromat Project Kemi Ilesanmi, and Real Art Ways Executive Director Will K. Wilkins.
The 2020 Real Art Awards is supported in part by:
An award from the National Endowment for the Arts and an Excellence in the Arts award from the Edward C. and Ann T. Roberts Foundation. Visual arts at Real Art Ways is supported by the Andy Warhol Foundation for Contemporary Art.
Welcoming You Back Safely:
As you return to our physical space, your health and safety is our top priority. To learn about all the steps we have taken to prepare and our new procedures visit our Welcoming You Back page.