Event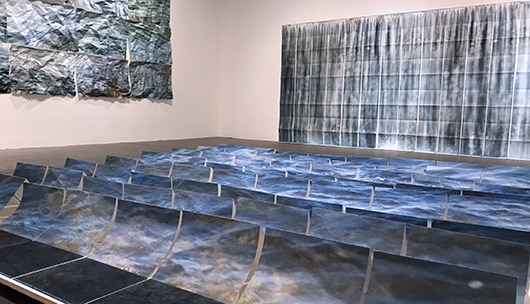 ARTS
Artist Talk - Barbara Hocker: Downstream
A reception will begin at 2:30 PM, with the talk commencing at 3:00 PM.
Visual Arts Coordinator, Neil Daigle Orians will engage with Barbara in a dialogue surrounding her work and process, including her practice of Tai Chi & Qigong.
More info about Downstream is at this link.
About the Artist
Barbara Hocker is a Connecticut native with extensive experience creating and exhibiting work including solo shows and projects in Hartford, New Haven, Newport, and Boston. She has work in several corporate and private collections, including the permanent collection of The Memorial Sloan Kettering Cancer Center in Manhattan and several related hospitals in New York and New Jersey. Awards received include an Individual Artist Fellowship from the Greater Hartford Arts Council, a Creation of New Work Initiative Grant from the Edward C. and Ann T. Roberts Foundation, and an Artist Resource Trust Fellowship from the Berkshire Taconic Foundation. She holds a degree in Fibers from Syracuse University's College of Visual & Performing Arts and attended Cranbrook Academy of Arts. Barbara lives in Bolton, Connecticut and maintains a studio in the Arbor Arts Center in Hartford. Her art process has been informed by her practice of Yoga, Tai Chi and Qi Gong for more than 25 years.