Event
EVENTS
Angee's Journey Screening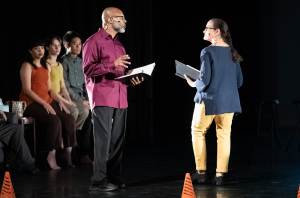 "Angee's Journey is a true testament to how art can heal, to an artist's devotion, to preservation of one's spirit, and to the power of a mother's love." – LA Dance Chronicle
Event Details:
Angee's Journey: a documentary dance film and conversation around mass incarceration's impact on our families and communities with Ernst Fenelon Jr., Angee Fenelon whose lives are centered in the film, choreographer/film director Suchi Branfman, Tracie Bernardi-Guzman (who spent 23 years inside York Correctional Facility) and her mother, Laura Bernardi.
Synopsis:
Angee's Journey retraces a mother's pathway to visit her son, every month, during his fourteen-year incarceration; three trains, two buses, two cabs, and twelve hours each way.
Film: 40 minutes, followed by a conversation with Angee, Ernst, and Suchi
Photos Courtesy of Dancing Through Prison Walls

Free Admission
In lieu of ticket entry, we encourage you to bring donations for reentry kits, supplied through Community Partners in Action's Welcome Center and/or make a donation to Dancing Through Prison Walls to support their work dancing with incarcerated and formerly incarcerated movers. Donations can also be made here.
The Reentry Backpack Drive
The Reentry Backpack Drive provides a person returning home from prison with immediate basic needs. Core reentry backpacks can include backpack, toothpaste, face mask, hand sanitizer, toothbrush, deodorant, face cloth, towels, comb, brush, umbrella, shampoo and conditioner, make-up, and other personal hygiene products (only new items please.)
Extend a backpack by including bus passes, food gift cards, clothing vouchers, and, most important, a low-cost Smart Talk pre-paid smartphone and phone card with 2 months of unlimited minutes, allowing participants to stay connected to virtual services during the pandemic.