Event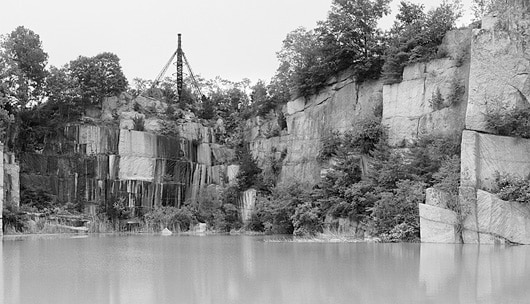 Andrew Buck's sense of the term "landscape" is inspired by the writings of John Brinkerhoff Jackson. "He went back to the source word, the German landschaften, which referred to that which results when 'man' reconfigures and uses the land, in essence creating his own landscape on the natural landscape," says Buck.
Real Art Ways Executive Director Will K. Wilkins says, "Andrew Buck's work is abstract, specific, tactile and spirited. There is a lot going on in what seems like straight-forward landscape."
Buck is interested in the documentary aspects of his work, but he also cites abstract expressionism as an inspiration. Says Buck, "The sheer size of the space of most quarries is awe-inspiring in a strange manner. That is, that these spaces are man-made, not natural.  Many of them are otherworldly in both appearance and in actual experience. The overwhelming silence enhances the experience."
About Andrew Buck
Andrew Buck lives and works in Farmington, Connecticut. His work is included in many public and private collections, include the Yale University Art Gallery and the New Britain Museum of American Art. He has shown both his Rockface and Tobacco series at Real Art Ways. Buck is a recipient of the Connecticut Commission on the Arts Individual Artist Fellowship in both 2016 and 1995 as well as a Berkshire Taconic Foundation Artist Resource Grant in 2010.
To see more of Buck's work, visit his website.

Quarry Panorama 5 (Stony Creek Granite Quarry); 2014; 85″ x 25″
Click to enlarge.

Quarry Panorama 9 (Trap Rock Quarry, Plainville, CT); 2017; 324″ x 40″
Click to enlarge.