Event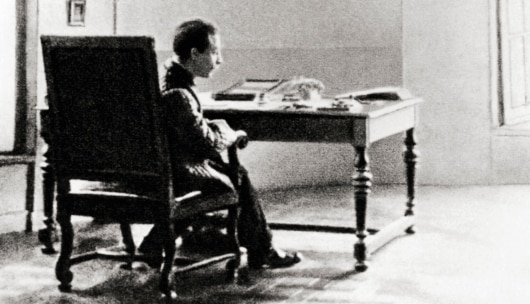 An Immersive Theatrical and Dance Experience
In The Sonnets to Orpheus, written 100 years ago, Rilke wrote, "And all things hushed. Yet even in that silence a new beginning, beckoning, change appeared."
Hartford-area-based choreographer Peter Kyle has conceived a theatrical, poetic and musical journey for audience members to travel through. Part 1 invites audiences to take their own journey through a series of connected hallways and rooms on the "other side" of Real Art Ways' newly purchased building. In each space, guests will be immersed in a different environmental, sensory-rich experience incorporating references to Rilke's poetic imagery. In Part 2 audiences convene in the Main Gallery at Real Art Ways for a culminating sit-down performance. Designed as a monument to listening, the work draws on the intersection of personal and shared memory, kinetic experience of quotidian gesture and rarified physicality, all inspired by Rilke's cycle of sonnets, including his line, "you built a temple deep inside their hearing."
The project showcases an intergenerational cast ranging in age from 15-68, including four soloists and a supporting trio of local youth. Original music for the project is by James Bigbee Garver, visual art/set design by Christine Sciulli, lighting design by RJ Larussa, and costumes by Elinor Watts. Performers include: Yueh-Ching Chung, Marielis Garcia, Holley Farmer, Raechel Manga, Kamryn DeAngelis, Alexis Delisle, Grace Zommer, and readers Ciaran Berry, Scott Giguere, and Clare Rossini.
And all things hushed is made possible in part by a Creation of New Work grant from the Edward C. and Ann T. Roberts foundation, faculty research funds from Trinity College, through contributions from many individual donors.
Creative Team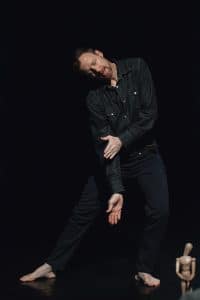 Peter Kyle is a dancer, choreographer, teacher, filmmaker, and Artistic Director of Peter Kyle Dance, founded in New York City in 2006, and based in Connecticut since 2018. His work, known for its sense of humanity, creativity, and innovative cross-disciplinary collaborations, has been presented across the United States, and internationally in Germany, Norway, The Netherlands, Mexico, Scotland, China, Cyprus and Ukraine.
A highly versatile artist, described by choreographer Murray Louis as "an artist of the most gifted kind," he has performed around the world as a principal dancer with Nikolais and Murray Louis Dance, and also worked with numerous other companies including Mark Morris Dance Group, Erick Hawkins Dance Company, Pittsburgh Dance Alloy, Gina Gibney Dance, Molissa Fenley and Company, and the theater company P3/east, among others. He began his professional dance career with Works/Laura Glenn Dance, in Hartford, CT.
Kyle's Tiny Dance Film Series, a collaboration with composer James Bigbee Garver has been installed in galleries, theaters, and festivals around the world since 2006, including at the Dance on Camera Festival at Lincoln Center. His choreography for The Only Tribe (2008) at 3LD Art & Technology Center, was called "exquisitely choreographed" by Time Out New York. Among his many collaborators are musicians Michael Bellar, William Catanzaro, Lori Goldston, and Diego Vásquez; visual artists Caleb Nussear, Jaanika Peerna, Christine Sciulli, and Venske & Spänle; couture fashion designer Garo Sparo; and Ukrainian choreographer Anton Ovchinnikov, with whom he created Dancing Through Translation, a 2017-2018 research and performance project that toured across Ukraine with support from the Public Diplomacy Small Grant Fund of the U.S. Embassy, in Ukraine.
A highly regarded teacher of dance, performance, improvisation and composition throughout the U.S. and internationally, Kyle has taught at University of Washington, Marymount Manhattan, Bard, and Sarah Lawrence colleges, and since 2018 teaches at Trinity College in the Department of Theater and Dance, where he will become Chair in July 2022. He was Associate Director at Bearnstow, a summer arts retreat in rural Maine (2017-2020), served on the Board of Directors at Triskelion Arts, a vibrant arts center in Brooklyn, NY (2012-2019), and currently serves on the Board of Directors of the CT Dance Alliance. He has received awards from Concours Internationale de Danse de Paris, Pittsburgh Dance Council, Simpson Center for the Humanities, Washington State Arts Commission, American Music Center, New York Foundation for the Arts, Mertz-Gilmore Foundation (through Triskelion Arts), The Edward C. and Ann T. Roberts Foundation, New England Foundation for the Arts, and U.S. Embassies in China and Ukraine, where he was a 2016 Fulbright Specialist grantee.
For more information, visit www.peterkyledance.org.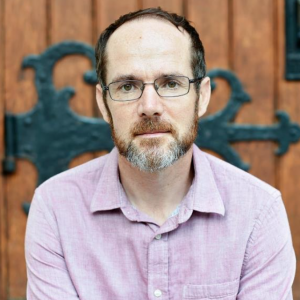 Ciaran Berry is the author of the poetry collections Liner Notes, The Dead Zoo, and The Sphere of Birds, all published by The Gallery Press. His work has been featured in The Gettysburg Review, Poetry, Ploughshares, The Southern Review, and The Threepenny Review. Originally from the west of Ireland, he co-directs the Creative Writing Program at Trinity College and lives with his family in West Hartford.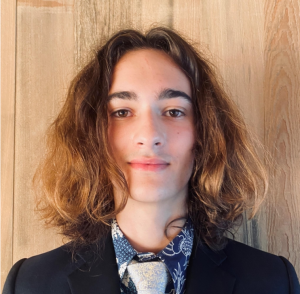 Tor Burwell explores physics through visual art. He is a physicist and visual artist from Long Island, New York. His art focuses mostly on simulations but he does not steer clear of other forms of creation. His work has been shown at Guild Hall in East Hampton, and the Parrish Art Museum in Watermill. Through July 23rd his work can be seen in the Techspressionism show at Southampton Arts Center. Tor plans to study physics in college and is currently pursuing his pilot's license. His Instagram is @torburwell, and some works are for sale on Foundation, https://foundation.app/@torburwell.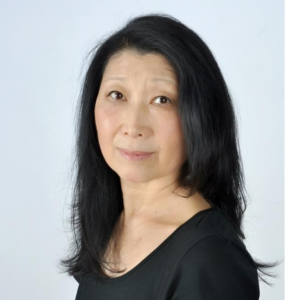 CHUNG, YUEH-CHING 鍾悅卿 is the Founder-Director of Heights of Wellness (HOW), a state-of-the art movement and wellness studio in Hartford, CT, since 2005. Educated in Taiwan and the United States, Ching has studied extensively with some of the finest master teachers of Dance, Qìgōng, Tàijíquán, Stott Pilates, and Massage Therapy. She began her performance career as a dancer with Works Contemporary Dance, and later Works/Laura Glenn Dance. She was a member of the dance and choreography faculties at the University of Hartford Hartt School of Music, Dance, and Theater, the Greater Hartford Academy of Performing Arts high school, and at the School of the Hartford Ballet. Central to her approach to wellness and movement is Ching's work in Qìgōng and Tàijíquán. She is a longtime student of world-renowned Dr. Yang, Jwing-Ming, a master in martial and healing arts. Ching continues to study and draw from these rich traditions that resonate with her philosophy of how to best support the mind and body on the path to wellness. Ching enthusiastically instills in her students a sense of strength and empowerment. It is her mission to encourage awareness of the mind and body connection inherent in a healthy lifestyle. Ching is the author of One Body, One Life Within Your Control (Balboa Press, 2021). www.heightsofwellness.com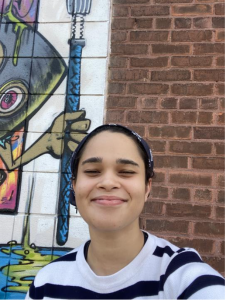 Brianna D'Andria is a young aspiring individual with a unique outlook on life. Since elementary school she has been putting on shows and through that found a passion for production.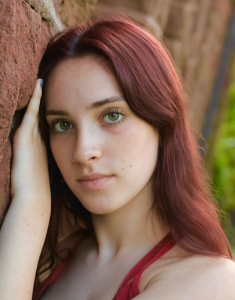 Kamryn DeAngelis is an upcoming senior at Greater Hartford Academy of the Arts and Farmington High School. She has been dancing at her home studio The Dance Connection for 12 years. As a competitive dancer for the past 10 years, she enjoys performing various styles, her favorite being contemporary.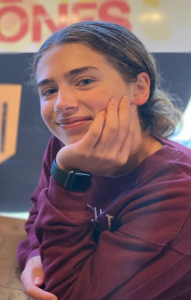 Lexi DeLisle is an upcoming junior at the Greater Hartford Academy of the Arts (GHAA) dance program and RHAM high school. This year she participated in GHAA's Choreographers'' Showcase. In that she worked with Carter Alexander, a dance faculty member at SMU college and Kim Stroud, a former Martha graham soloist, as she staged Steps in the Street. She also was a member of Immix junior company, a local collaborative dance group. At her dance school, she is currently studying Vaganova and Horton technique. Though she also loves Laban and Cunningham modern.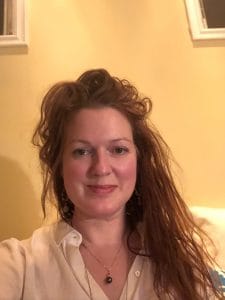 Holley Farmer is originally from Fresno, CA. She earned her BFA in Dance from Cornish College of the Arts, and MFA in Dance from The University of Washington with a focus on critical theory. She performed with Merce Cunningham Dance Company from 1997-2009, receiving the New York Dance and Performance Bessie Award for Sustained Achievement. Her performances with MCDC include a repertory of over fifty dances and thirteen original roles created for her by Cunningham, with multiple seasons at Lincoln Center, Kennedy Center, Brooklyn Academy of Music, Paris Opera, Théâtre de la Ville, the Barbican, and venues in 23 countries. After Cunningham's passing, she danced on Broadway originating the principal role of Babe in Twyla Tharp's Come Fly Away, for which she received an Astaire Award Nomination. In 2011, she began staging the work of Cunningham, and creating her own choreographies. Her solo work has appeared at New York Live Arts, the Museum of Arts and Design, LaMama, the Joyce Theater, and Jacob's Pillow. For the last ten years, in higher education, she has taught theory and practice courses, and has served on the faculty at Mills College, Hunter College, Sarah Lawrence College, Nassau Community College, CSU Long Beach, among national guest teaching and lecture engagements including Stanford University, and Southern California Institute of Architecture. She dances with Molissa Fenley and Dancers, Peter Kyle Dance, and continues to teach at City Center Studios in NY for the Cunningham Trust. She is currently Assistant Dean and BFA Program Director at CalArts.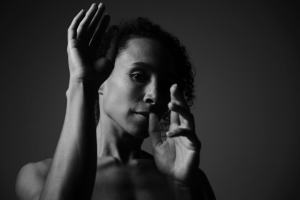 Marielis Garcia is the Dance Artist in Residence within the School of Theatre, Dance, and Performance Studies at the University of Maryland. She is a Dominican American dance artist who has performed and toured with Brian Brooks (NY), Helen Simoneau (Winston-Salem, NC), and Peter Kyle Dance (NY), among others. She received her MFA
in Digital and Interdisciplinary Art Practice from City College of New York. Marielis' work has been presented both nationally and internationally. She was recently named Ballet Hispánico's Instituto Coreográfico Resident, and an Alvin Ailey New Directions Choreography Lab recipient. Photo Credit: Whitney Browne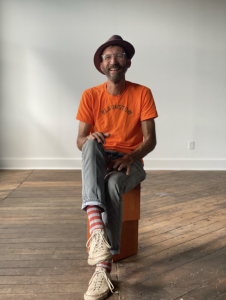 Jimmy Garver has over 17 years of experience creating sound designs and composing music for live performance, films, & art installations. He works primarily with composed sound and the spoken word, often mixing the timbres of acoustic instruments and human voices with synthetic audio to sculpt imagined textures and environments. In addition to this work, Jimmy has also consulted on large, AI-powered, synthetic voice projects for Microsoft Research and Descript.
Some previous collaborators include Kimberly Bartosik/daela, Diane Coburn Bruning/Chamber Dance Project, Shana Cooper, Katie Pearl & Lisa D'Amour, Michael Garces, Derek Goldman, Elizabeth Klob/UMO, Peter Kyle, Duncan Macmillan, Annabelle Lopez Ochoa, Mary Stuart Masterson, linn meyers, David Muse, Christopher Petit, Aaron Posner, Kameron Steele, Matthew Torney, Eric Tucker, Yury Urnov.
Jimmy's work has been heard at and/or commissioned by Pushkin Industries, Ballet Hispanico/Apollo Theatre, Lincoln Center's Dance On Camera festival, the Smithsonian Institute, Microsoft Research, Descript Inc., UMO Ensemble, BAM, PS-122, Joyce SoHo, 92nd St. Y Harkness Dance, Bearnstow, Atlantic Theatre Company, Chamber Dance Project, Woolly Mammoth Theatre Company, Signature Theatre (DC), Folger Theatre Company, Studio Theatre Company (DC), A Contemporary Theatre, Whitman College, Georgetown University, Bowdoin College.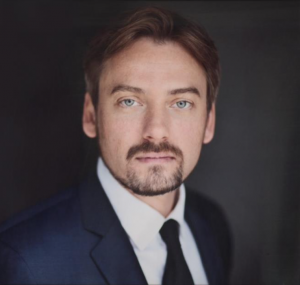 Scott Giguere has recently relocated to Bloomfield, CT from New York City, where he has begun settling into a stone farm house built in 1835. He is an actor, teacher of acting and movement, and a director who has been fortunate enough to perform around the world including incredible experiences in Sibiu, Romania working in a 12th century monastery and in Kyoto, Japan working with famed Japanese director Shogo Ota. He has taught BAs, BFAs and MFAs at various institutions including Indiana University Bloomington, Marymount Manhattan College, Long Island University-Post, University of South Carolina and Rutgers University. As an actor he has appeared at regional theaters across the country including Florida Studio Theater, with the Steppenwolf Company at the Seattle Repertory Theater, On The Boards (Seattle), HERE Arts (NYC), PCPA in California, and the beautiful Monomoy Theater on Cape Cod among many others. His directing credits include Chekhov's Seagull at Hartt; Swimming in the Shallows by Adam Bock, Pullman Car Hiawatha by Thornton Wilder, as well as solo work and original devised works based on Tennyson's Idylls of the King, Chekhov's Seagull, the Icarus myth and Hamlet. Scott earned his MFA in Acting from UW in Seattle and is a member of Actor's Equity Association.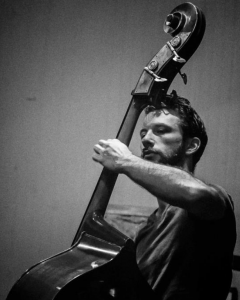 Kyle Grimm is a composer and double bassist whose music has been described as "feisty technicolor" (Roger Zahab). His compositions strive to strike a balance between the gritty and the beautiful through juxtaposition, layering, and synthesis; often employing electronics alongside acoustic elements. Improvisations I, a full-length album for double bass and electronics, is currently streaming on all platforms. In addition to the stage, Kyle's works can be heard in the video game Hold the Fort, by Monster Tooth Studios, which is currently on Steam, and the short film The Autumn Waltz, currently on Amazon Prime. When not composing, he can be spotted visiting local breweries, making obscure The Simpsons references, and spoiling his two cats.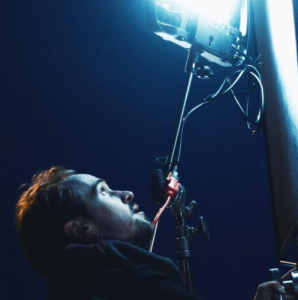 RJ LaRussa is a Director of Photography and Interdisciplinary Artist working locally in Hartford and New York City. As a Cinematographer, he specializes in story-forward projects across narrative, music video, and commercial work. RJ strives to bring naturalism and experimental techniques together to create visuals that serve the story of each individual project. His visual arts work focuses on interrogating the relationship between imperialism and cultural memory, mixing photography techniques with video, sculpture, and collage.
The relationship between people and the world around them is integral to his work as a storyteller. On set he considers experimentation and improvisation after careful planning as central to the artistic process. His recent work includes Cinematography for the upcoming web series Beige, the short film The Mundanes, and the digital collage series Through The Clear Blue Skies published in the Funnybone Record's journal Import Sky.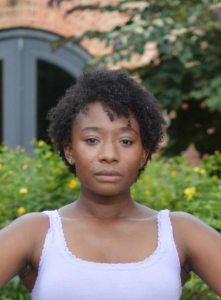 Raechel Manga is a Hartford resident that is a freelance artist and special education teaching assistant in the West Hartford school district. She received years of training at The Hartt School Community Division as well as Connecticut Concert Ballet for a brief period. She has been dancing since the age of two years old, her versatile training spanning from classical ballet, Horton technique, tap, jazz, and graham technique in her arsenal. Raechel has attended the Royal Ballet school in London, England, Alvin Ailey American Dance Theater, Joffrey New York, Los Angeles and Dance Theater of Harlem. From the age of nine until eighteen she was a part of the Figments Youth Dance Ensemble being introduced to experimenting with choreographing. She also went to Greater Hartford Academy of The Arts as a dance major in high school. Aside from being a professional dancer she has branched out towards acting. She was an extra for Sneaky Pete season two, which can be seen on Amazon Prime, also featuring in the film The After Party that is on Netflix, and was an extra on season four of FBI that is seen on CBS . As of now Raechel is diving back into school in pursuit of being a forensic pathologist assistant. But never forgetting her lifelong passion of dance.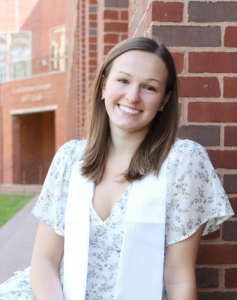 Kyleigh Olivier began dancing at the age of three in Massachusetts and trained in a variety of styles, including ballet, jazz, tap, contemporary, modern, hip hop, and pointe. She graduated summa cum laude from The Hartt School in May of 2021 with a BFA in Dance and a concentration in Ballet Pedagogy, along with a Business Management minor. While she was training at The Hartt School, Kyleigh was delighted to perform repertory by multiple prominent choreographers, including Martha Graham, José Limón, Merce Cunningham, Jules Perrot, Gabrielle Lamb, and Lar Lubovitch. During her senior year, she had the opportunity to take on the role of stage manager in a main stage production, initiating her experience in the production side of the dance world. Kyleigh is also honored to have received the 2019 Elena Delvecchio Rusnak Dance Education Scholarship and the Hartt Dance Division Senior Outstanding Achievement Award while pursuing her BFA degree. In her time at The Hartt School, Kyleigh discovered her passion for teaching dance and community outreach as she worked with diverse groups of students in her internships. She is also grateful for her opportunity to serve as Dance Director of the Prism Project in 2020, leading movement activities for children with exceptionalities. Kyleigh has been teaching at Connecticut Dance Academy since 2019 and has greatly enjoyed helping the talented and ambitious students to continue to grow in their technique and artistry.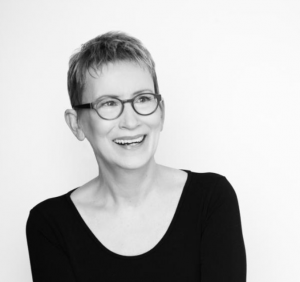 Clare Rossini has published three books of poems. Her poems and essays have appeared widely and are collected in numerous anthologies, including Best American Poetry 2020. She co edited The Poetry of Capital, published by the University of Wisconsin Press in 2020. Clare is Artist-in-Residence at Trinity College in Hartford, where she teaches classes in creative writing and oversees a program that places students in Hartford public school arts classrooms. Clare lives in West Hartford with her husband and son.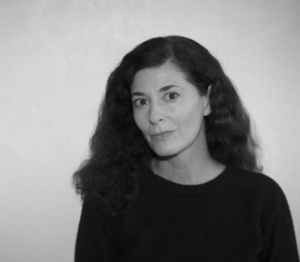 Christine Sciulli is a visual artist whose primary medium is projected light. Her immersive installations have been shown in museums, galleries and festivals in the US and Europe. Her work has been included in the American Academy of Arts and Letters 2014 Invitational, Guild Hall Museum, Parrish Art Museum, and Cologne's MAKK as part of the 2018 Collumina Light Festival. Sciulli's work will be part of the ZFIL Center for International Light Art's Fall 2022 show HYPERsculptures in Unna, Germany. She was the recipient of a Lower Manhattan Cultural Council Grant and commissioned by Dalhousie Art Gallery to create Breath of the Sea with funding from the Canada Council for the Arts. Sciulli was the recipient of an IALD Award for the Rodin Pavilion in Seoul and a Lumen Citation from the Illuminating Engineering Society for her Smack Mellon installation of ROIL. She was the recipient of a Lower Manhattan Cultural Council Grant for her public art project Intercepting Planes X. Christine was commissioned by the Global Poverty Project to create Expanding Circles, for the first Global Citizen Festival and was the recipient of an International Association of Lighting Designers Award of Merit for the Rodin Pavilion in Seoul.
Sciulli's theatrical credits include light-video artist for the Mabou Mines waterfront production of,SongforNewYork:WhatWomenDoWhileMenSitKnitting directedbyRuthMaleczech("…a distinctly urban feel, magnified by a glittering lighting design by Christine Sciulli, a video installation artist." Melana Ryzik, New York Times) developed at the Sundance Institute Theatre
Lab Residency at White Oak. She has worked with Phantom Limb in residence at Dartmouth College's Hopkins Center and Mass MoCA. Her video-electroacoustic collaborations with composer Doug Geers have been shown widely at European and American festivals.
Christine Sciulli holds an Architectural Engineering degree from Penn State University, graduating as a Besal Scholar, as well as BFA and MFA degrees from Hunter College. "Her work consists of intersections of the geometry and an intuitive sense of how to use everyday materials to give a sense of "spatialisation" – she plays with how we perceive the world around us in a way that leaves you with a kind of eerie sense of timelessness."(Paul Miller aka DJ Spooky)
Her websites are http://www.christinesciulli.net and http://www.vimeo.com/xine.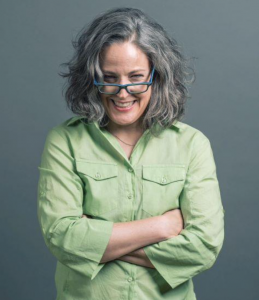 Bridget Sullivan has had the good fortune to work on special projects with several CT organizations: the International Festival of Arts and Ideas, Pilobolus, Night Fall; the Wadsworth Atheneum helped train her in art handling. The majority of her experience is in production management – highlights include TheaterWorks Hartford, Weston Playhouse Theater Company in Vermont, North Shore Music Theater. She's managed productions, projects, celebrity concerts and some amazing venue renovations, and she's grateful to work alongside the amazing AND ALL THINGS HUSHED artists.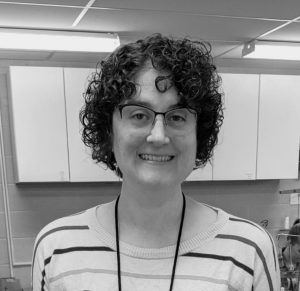 Brit Watts is a Connecticut based Costume Designer/Coordinator and First Hand. Over the years she has designed multiple productions for Trinity College. These include most recently The Pillowman, Fall Dance and Spring Dance. During her career in theatre she has worked at Goodspeed Musicals and Hartford Stage in various capacities. She currently works at John Cowles Studio as Assistant Manager and First Hand. As a First Hand she has built for many Broadway and Regional Theaters. A selection of these shows include Moulin Rouge! (Broadway and National Tour), My Fair Lady (Lincoln Center and London), Beautiful, How to Succeed in Business Without Really Trying, and South Pacific.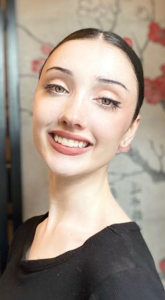 Grace Zommer is an upcoming senior at the Greater
Hartford Academy of the Arts and Farmington High
School. She has been dancing for 13 years and plans on
majoring in dance in college. She loves contemporary
ballet and the Horton technique.