Event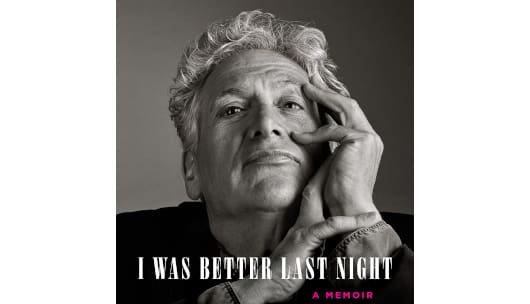 EVENTS
An intimate conversation with Harvey Fierstein
Harvey has an autobiography! Real Art Ways welcomes actor, writer and LGBTQ+ icon Harvey Fierstein on Thursday, March 31 at 7pm for an intimate conversation with Real Art Ways Executive Director Will K. Wilkins. Harvey's autobiography, "I Was Better Last Night," is scheduled for release on March 1.
Harvey Fierstein's career is legendary and has transported him from community theater in Brooklyn, to the lights of Broadway, to the absurd excesses of Hollywood and back. He's received accolades and awards for acting in and/or writing an incredible string of hit plays, films, and TV shows: Hairspray, Fiddler on the Roof, Mrs. Doubtfire, Independence Day, Cheers, La Cage Aux Folles, Torch Song Trilogy, Newsies, and Kinky Boots.
"I was Better Last Night" is a poignant and hilarious memoir from the cultural icon, gay rights activist, and four-time Tony Award–winning actor and playwright, revealing never-before-told stories of his personal struggles and conflict, of sex and romance, and of his fabled career.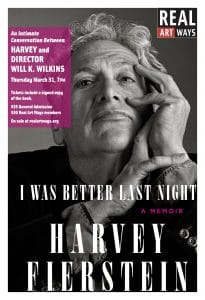 From a recent NY Times interview:
You've lived in Connecticut for years. What's the appeal?
Harvey: I never breathe freely in the city. It's always there, calling you or frightening you. Here I live on top of a hill. I come home from work, walk straight through the house pulling my clothes off, and I fall into the swimming pool.
Early praise:
"I love this book. Harvey Fierstein turns a phrase into a novel and the personal into the universal. The day for this book has come." –Gloria Steinem
"Harvey's book is a perfect reflection of him; full of heart, chutzpah, great stories, and tons of belly laughs. And wigs." –Andy Cohen
"Harvey is the king and queen of Broadway. He can take you on a journey with his words and he is hysterical." –Henry Winkler
"I am in awe of Harvey's theatrical history. From being among the vanguard of New York's Experimental Theatre, through Warhol, to Broadway musicals. Who can touch that? His memoir is extraordinary, and he is in a class by himself." –Patti LuPone
"This is a beautiful memoir – full of humor and heart – I read it in 2 days – smiling laughing and wiping away tears – don't miss this book – a great read from a wonderful man – I love Harvey Firestein." – Rosie O'Donnell
"Harvey Fierstein is a true American original who has blazed his own trail through popular culture for half-a-century. His memoir is every bit as witty and brave and big-hearted as the man himself." –Armistead Maupin