Event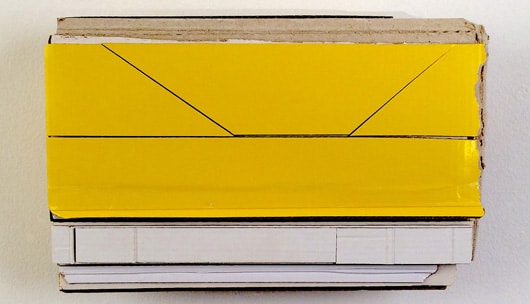 ARTS
Abductions and Reconstructions
Combining unconventional materials in unexpected manners, Abductions and Reconstructions offers fresh takes on abstraction, collage, and sculpture. Curated by David Borawksi, three artists present a diverse range of aesthetic considerations.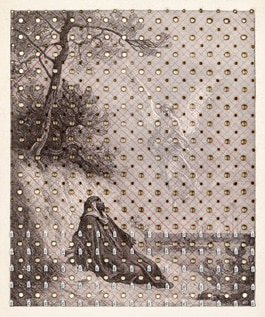 Meg Hitchcock uses sacred texts to craft intricate designs and imagery. The labor intensive practice of cutting minute details mimics the rituals and meditations contained in her source materials. Hitchcock often uses letters from one text, such as the Bible, to craft passages in another text, like the Quran. Regarding this process, Hitchcock says "…by deconstructing and recombining the holy books of diverse religions, I undermine their authority and animate the common thread that weaves through all scripture." Featured image at right: Bling No. 4: Visitation, 2017; Letters cut from the Bible, print by Gustave Dore, paper burned with Tibetan incense; 8 7/8 x 7 1/4 in.
Ryan Sarah Murphy's bright cardboard reliefs live in between the worlds of sculpture and painting. Her assemblages create what could be aerial views of farmland, architecture plans, or political maps of imaginary nations. She crafts these objects with a sense of seriousness and play befitting the found, casual nature of her materials. Featured image, top of page: at the margins of the land, 2017; Unpainted cardboard, foam core; 6.25 x 9.75 x 2.5 inches.
Liz Sweibel uses both found and purposefully acquired materials in her precarious sculptures and assemblages. Speaking to her process, Sweibel says "I build [my art] using particular yet ordinary materials and gestures. The process is low-tech, immediate, and improvisational, and primarily takes form as spare, abstract sculpture, installation, and drawing." Featured image below: Untitled (Splinter #11), 2015; Wood, paint; four elements; 2.5″ x 6″ x 4″ (variable).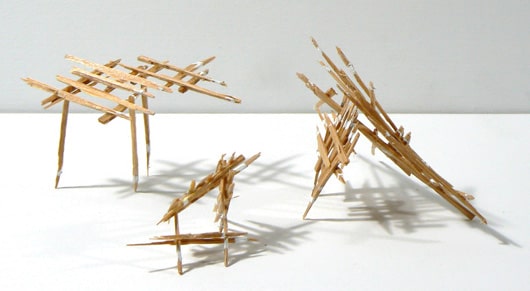 To view more of Hitchcock's work, visit her website.
To view more of Murphy's work, visit her website.
To view more of Sweibel's work, visit her website.