Event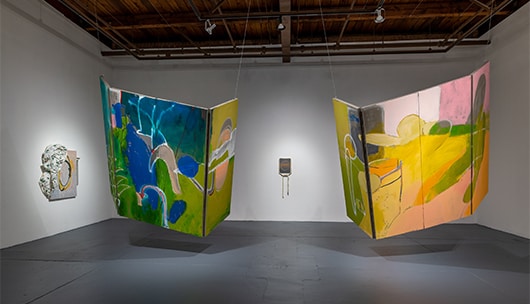 ARTS
A Rite of Passage
Kate Bae
Real Art Ways presents a solo exhibition of recent work by 2021 Real Art Award recipient Kate Bae.
Bae's painting installation explores societal barriers and personal relationships, touching on themes of hope, inclusion, uncertainty, and love. Her latest project, A Rite of Passage, started with the COVID-19 pandemic lockdowns, during which time Bae experienced physical assaults and psychological violence living in New York City. COVID-19 exposed many ugly facets of our society – notably pervasive bias-related violence against perceived minorities in the United States. The shift in social and power dynamics deeply impacted Bae's way of life. As an Asian woman and an immigrant from South Korea, Bae was regularly targeted and treated with hostility because of her identity. While still fearful and grieving the loss of many loved ones, here Bae offers an inclusive space for hope and for processing uncertainty.
Her foldable paintings invite the audience to walk through the "passage" between them. For Bae, the installation is a metaphor for small movements, transformative journeys, forms of acceptance, life, death – even experiences of stagnation and depression. Bae's work turns toward hope by embracing uncertainties with love.

About the Artist
Born in Busan, Korea, Kate Bae is a New York-based independent curator and artist working through painting and site-specific installations. Bae's practice is concerned with multiple identities, memory, neuroses, and psychological borders. Bae holds an MFA from the Rhode Island School of Design and a BFA from the School of the Art Institute of Chicago in painting. Bae is a founder of Women's Cactus for the Arts and has exhibited nationally and internationally, including solo shows at the Sunroom Project Space at Wave Hill, Bronx, NY and the Deiglan Gallery in Akureyri, Iceland. She is a grant recipient of a Real Art Award, MVP Chapter Lead Grant from Malikah Gender Justice Institute, Ora Lerman Trust, Creative Capital Professional Development Program and the NYFA Immigrant Artist Mentoring Program. She has attended many residencies including the Golden Foundation, the Studios at Mass MoCA, Trestle Gallery, Wassaic Project, Chashama and Lower East Side Printshop Keyholder Residency, among others.
About the Real Art Awards
The Real Art Awards is an annual opportunity for emerging artists living in New England, New Jersey, or New York. The open call, offered with no entry fees to artists, attracts hundreds of applicants each year, of which 6 artists are chosen. Selected artists receive a solo exhibition, with a commissioned essay, professional documentation, and a cash prize of $2,500. The 2021 Real Art Awards was juried by artist and writer Kameelah Janan Rasheed; Hasan Elahi, artist and Director of the School of Art at George Mason University; and Real Art Ways Executive Director Will K. Wilkins. The 2021 Real Art Awards is supported in part by an award from the National Endowment for the Arts.
Photo Credit: John Groo