Event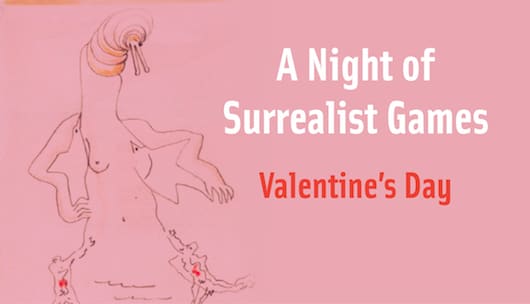 EVENTS
A Night of Surrealist Games
Roger Clark Miller (Mission of Burma, Alloy Orchestra) will host an evening of drawing and word games that were developed during the heyday of surrealism.
Games include the Exquisite Corpse drawing game (advanced drawing skills not required!), the Dream Game (a board game where you end up creating a dream!), and many varieties of surrealist word games.
The consummate master of ceremonies, Miller will not only explain and lead the games to kick off the event, but he'll also DJ – providing a surrealistic soundtrack to the evening. (Paper and drawing/writing tools will be supplied).
Says Miller, "A great virtue of these games is that they are not at all competitive. A person who is an experienced artist may interact with a more naive drawer to produce a brilliant composition. It's all about the collective work."
Everyone plays while taking in a surrealistic soundtrack curated by Miller, and sipping cocktails made especially for the evening.
Miller adds, "With Surrealism in charge, anything is possible. It's a great ice-breaker to boot, hence a Surrealist Valentine's Day in Hartford."
Image above: André Masson, Max Ernst, and Max Morise, Exquisite Corpse, 1927.