Event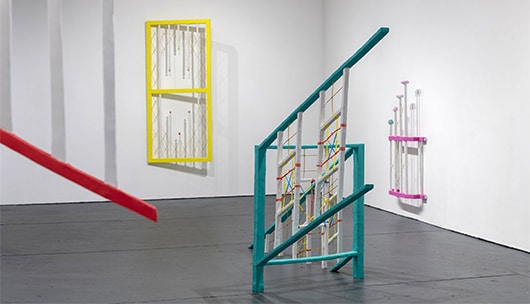 Real Art Ways presents a solo exhibition of new work by 2020 Real Art Award recipient Anne Wu.
In A Dream Walking, five vibrantly hued sculptures reference familiar architectural forms that evoke both a sense of place and no place at all. A railing grows from the ground, emerging upward before reaching an abrupt end. A door opens, or closes, to nowhere in particular. Stripped of specific characteristics, the forms become framing devices for ornamental objects such as plastic packing rope, incense sticks, garden wire, and cast items. Tied, placed, or held by tension, these elements create patterns against the skeletal structures that suggest themes of growth, ascension, and time. The sculptures signal viewers to walk under, toward, alongside, and around, providing a set of directions that eventually disappears, as if trailing off mid-sentence. While tethered to the existing space, the works simultaneously point elsewhere as they imagine a dimension beyond the purely visible and physically tangible.
Download a PDF of the show publication here. Featuring an essay by curator and writer Danni Shen.
Lisa Young of "The Here and There Collective," interviewed artist Anne Wu on Instagram Live. You can listen to the full conversation HERE.
About The Artist:
Anne Wu is an artist working primarily in sculpture and installation. She received a BFA from Cornell University in 2013 and an MFA from Yale University in 2020. Her work has been shown at The Shed (New York, NY), NARS Foundation (Brooklyn, NY), Shaker Museum | Mount Lebanon (New Lebanon, NY), and New York Public Library (New York, NY), among others. She was an artist-in-residence at the BHQFU Residency in 2015 and the NARS Satellite Residency on Governors Island in 2020. Currently, she is a 2021-22 Studio Artist at Smack Mellon (Brooklyn, NY).
About the Real Art Awards:
The Real Art Awards is an annual opportunity for emerging artists living in New England, New Jersey, or New York. The open call, offered with no entry fees to artists, attracts hundreds of applicants each year, of which 6 artists are chosen. Selected artists receive a solo exhibition, with a commissioned essay, professional documentation, and a cash prize of $2,500. The 2020 Real Art Awards was juried by artist and educator Mary Mattingly, Director of the Laundromat Project Kemi Ilesanmi, and Real Art Ways Executive Director Will K. Wilkins. The 2020 Real Art Awards is supported in part by an award from the National Endowment for the Arts and an Excellence in the Arts award from the Edward C. and Ann T. Roberts Foundation. Visual arts at Real Art Ways is supported by the Andy Warhol Foundation for Contemporary Art.
Welcoming You Back Safely:
As you return to our physical space, your health and safety is our top priority. To learn about all the steps we have taken to prepare and our new procedures visit our Welcoming You Back page.
Photo Credit: John Groo