Event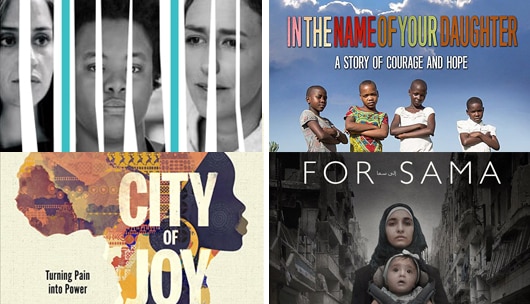 EVENTS
2020 Global Health Film Festival
Real Art Ways is proud to partner with Connecticut Children's to present the 2020 Global Health Film Festival.
Join us for free live screenings at the times below. No registration is necessary for online screenings (11/30, 12/1 & 12/2). Registration is necessary for in-person screening (12/6) at Real Art Ways. Instructions below.
Festival Schedule:
Monday, November 30, 2020, Online at 8 pm
UnMasked: We All Breath
Hosted by Juan Salazar MD
UnMasked tells the story of three young South African doctors who contract multi-drug-resistant tuberculosis (MDR TB). These women endured years of harrowing side effects caused by the MDR TB treatment and narrowly escape death from a disease that is as old as the plague. This documentary follows these brave, resilient women as they claw their way up from the depths of despair to create new lives for themselves.
Attend the film screening HERE (at the scheduled time)
Tuesday, December 1, 2020, Online at 8 pm
In the Name of Your Daughter
Hosted by the film's director, Giselle Portenier
In The Name Of Your Daughter is the inspiring and intimate verité story about some of the bravest girls in the world, children like feisty 12-year old Rosie Makori who ran away from her home in Northern Tanzania to save herself from female genital mutilation (FGM) and the child marriage her parents had planned for her. Set in the stunning landscape of East Africa's Serengeti district, this is ultimately an inspiring and hopeful story of brave young girls standing up for their human rights and fighting for change in their community.
Attend the film screening HERE (at the scheduled time)
Wednesday, December 2, 2020, Online at 8 pm
For Sama
Hosted by Hareem Park MD
Prix L'Œil d'Or for Best Documentary at the 2019 Cannes Film Festival. 
Grand Jury Award for Best Documentary at the SXSW Film Festival 
FOR SAMA is both an intimate and epic journey into the female experience of war. A love letter from a young mother to her daughter, the film tells the story of Waad al-Kateab's life through five years of the uprising in Aleppo, Syria as she falls in love, gets married and gives birth to Sama, all while cataclysmic conflict rises around her.
Attend the film screening HERE (at the scheduled time)
Sunday, December 6, 2020, In Real Art Ways Cinema at 3 pm
City of Joy
Hosted by Adam Silverman MD
CITY OF JOY follows the first class of women at a revolutionary leadership center in eastern Congo called City of Joy, from which the film derives its title, and weaves their journey as burgeoning leaders with that of the center's founders (Dr. Denis Mukwege, 2016 Nobel Peace Prize nominee, women's rights activist Christine Schuler-Deschryver and radical feminist Eve Ensler, author of The Vagina Monologues) – three individuals who imagined a place where women who have suffered horrific rape and abuse can heal and become powerful voices of change for their country.
Admission is free. Email Maureen Kenna at mkenna@realartways.org to reserve seats
Connecticut Children's Center for Global Health team is dedicated to improving the physical and emotional health of children around the world by supporting our staff and faculty in their activities to build the capacity of nurses, physicians and other healthcare providers in developing countries.