Event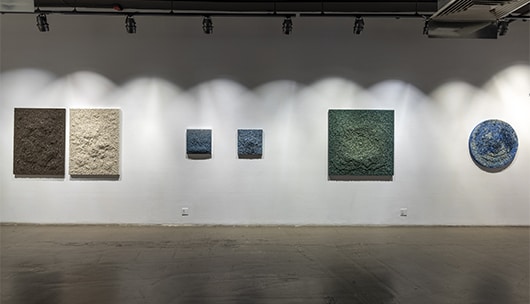 ARTS
무: 無: Nothing
Seunghwui Koo
Real Art Ways presents a solo exhibition of new work by 2019 Real Art Award recipient Seunghwui Koo. 
Drawing from meditative experiences in nature, Koo creates meticulous resin, acrylic, plaster, clay, and mixed media works inspired by the daily happenings and intricate moments of her life in New York City. Her work is a commentary on the lives of her fellow New Yorkers, as she has witnessed them. Koo was born in South Korea, where she first experimented with combining the forms of the pig's head and the human body. The significance of the pig's head in Koo's work plays on differing symbolic meanings in Eastern and Western cultures. Good fortune (Eastern) and greed (Western)—two very different connotations of the pig—are prominent themes, in tension with the textural and organic qualities of the pieces on view.
About the Artist:
Seunghwui Koo studied sculpture in South Korea, earning a BFA from Kyungpook National University. She has shown her work with a number of arts institutions including the Monmouth Museum, NJ; Newark Museum, NJ; Main Line Art Center, PA; and Kunstenfestival Watou 2017, 37th Edition, Belgium. Koo was a winner of the Exhibition Award in 2014 and 2017 at the Korean Cultural Center in New York and Los Angeles, and the 2015 Meyer Family Award for Contemporary Art at the Main Line Art Center in Philadelphia, PA. She was also a 5-year artist-in-residence at the Chashama organization from 2013 to 2017.
About the Real Art Awards:
The Real Art Awards is an annual opportunity for emerging artists living in New England, New Jersey, or New York. The open call, offered with no entry fees to artists, attracts hundreds of applicants each year, of which 6 artists are chosen. Selected artists receive a solo exhibition, with a commissioned essay, professional documentation, and a cash prize of $2,500.
The 2019 Real Art Awards is supported in part by:
An award from the National Endowment for the Arts and an Excellence in the Arts award from the Edward C. and Ann T. Roberts Foundation. Visual arts at Real Art Ways is supported by the Andy Warhol Foundation for Contemporary Art.
Welcoming You Back Safely:
As you return to our physical space, your health and safety is our top priority. To learn about all the steps we have taken to prepare and our new procedures visit our Welcoming You Back page.
Photo Credit: John Groo