Film 101: Shadows & Gunpowder, a study of Film Noir
Real Daytime Drama
---
---
---
---
Film 101
Real Art Ways' matinée series for film aficionados
Modeled after an Introduction to Film Studies course, the series features lively and engaging post-film discussions with Ian Ally-Seals, Cinema Coordinator at RAW. Participants learn how to view classic and/or contemporary films with a critical eye and engage with the screen on a deeper level.
The films are shown in our cinema and the post-film discussions take place in our galleries.
Sessions are held on Saturdays beginning at 11:00 AM. The spring session will begin on March 3, 2018.
Shadows & Gunpowder, a study of Film Noir
In the post-World War II era American cinema birthed a new, darker film genre. In these movies viewers were introduced to a world filled with savage violence, sizzling lust, and constant paranoia; all presented under the blanket of night. Years later French film critics would give this cinematic style its name: Film Noir.
In this Film 101 series Ian Ally-Seals gives viewers a tour through the dark and desperate world of Film Noir. The series focuses on four key films: Murder, My Sweet; The Killing; Bob le Flambeur; and Blood Simple. Through viewing these films and post-screening talks, viewers gain insight into this versatile genre.
The films are listed below.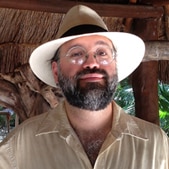 About the Instructor
Ian Ally-Seals has a degree in Film/Digital Media & Film Theory from Bard College. He studied Film Criticism under Dr. John Pruitt and cinema production under such influential film makers as Adolfas Mekas, Peter Hutton, and Leah Gilliam. Ian is the Cinema Coordinator at Real Art Ways where he helps develop the film calendar and manages all aspects of the Cinema.
Upcoming Events
Bob le Flambeur (1955)
Mar 31
Blood Simple (1984)
Apr 28