Book Talk with Colin McEnroe
Join author Steve Almond and WNPR host Colin McEnroe in a discussion inspired by Almond's new book: Bad Stories: What the Hell Just Happened to Our Country.
Almond's new release attempts to make sense of our historical moment, to connect certain dots that go unconnected amid the deluge of hot takes and think pieces. Almond looks to literary voices―from Melville to Orwell, from Bradbury to Baldwin―to help explain the roots of our moral erosion as a people.
Copies of the book, Bad Stories: What the Hell Just Happened to Our Country will be available for purchase.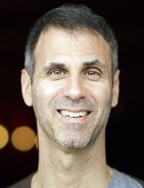 About Steve Almond
Steve Almond is the author of eight books of fiction and non-fiction, including the New York Times Bestsellers Candyfreak and Against Football. His short stories have been anthologized widely, in the Best American Short Stories, The Pushcart Prize, Best American Erotica, and Best American Mysteries series. His essays and reviews have appeared in the New York Times Magazine, the Boston Globe, the Washington Post, and elsewhere. He teaches at the Nieman Fellowship for Journalism at Harvard, and hosts the New York Times podcast "Dear Sugars" with fellow writer Cheryl Strayed.

About Colin McEnroe
Colin McEnroe hosts the daily WNPR show, The Colin McEnroe Show. He is a weekly columnist and blogger for The Hartford Courant and a contributing editor at Men's Health. He has recently concluded a series of columns for Bicycling magazine.
He is the author of three books and one play; and his work has appeared on the New York Times Op-Ed Page and in Mirabella, Best Life, Cosmopolitan, Forbes FYI and Mademoiselle. It is not his fault that only one of those magazines still exists. He frequently moderates the Connecticut Forum and teaches media studies at Trinity College. His books, columns, magazine articles and radio shows have won numerous awards, all of which are in boxes somewhere.