Event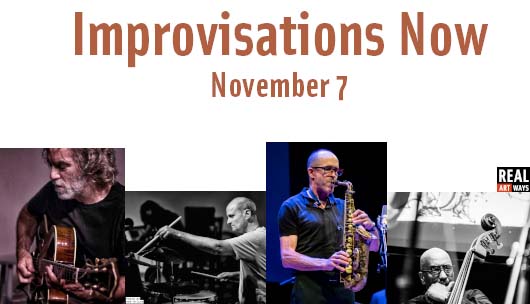 EVENTS
Improvisations NOW - November 7
Introducing a new monthly music series, Sundays at 2:30pm, kicking off in November.
Nov. 7
William Parker — bass, dos n'goni, zintar, flutes
Rob Brown — alto sax, flute
Jerome Deupree — drums
Joe Morris — guitar, banjo, n'gonitar
William Parker is a bassist, improviser, composer, writer, and educator from New York City, heralded by The Village Voice as, "the most consistently brilliant free jazz bassist of all time."
In addition to recording over 150 albums, he has published six books and taught and mentored hundreds of young musicians and artists.
Parker's current bands include the Little Huey Creative Music Orchestra, In Order to Survive, Raining on the Moon, Stan's Hat Flapping in the Wind, and the Cosmic Mountain Quartet with Hamid Drake, Kidd Jordan, and Cooper-Moore. Throughout his career he has performed with Cecil Taylor, Don Cherry, Milford Graves, and David S. Ware, among others.
Rob Brown moved to New York in 1984 and established the musical relationships that came to define his career. Immediately he reestablished ties with pianist Matthew Shipp whom he met in Boston in 1982 and continued to develop an improvising language with him. They performed sometimes with a trio or quartet but mainly as a duo and recorded their first album together in 1988 on Cadence. Within a year or two of moving to NYC Rob met William Parker and formed a trio with Denis Charles that explored a slightly more traditional jazz trio improvising language utilizing Rob's compositions. In 1989 they recorded a cd for Silkheart and Rob's trio concept continued to evolve, playing with different drummers and bassists producing a number of recordings.
Rob also began working with William Parker's many ensembles and has continued to be very active with him for almost 30 years, touring Europe and the US and recording at least 18 albums. The most most prolific and steadily working of those groups is Parker's quartet, formed in 2000 with Lewis Barnes and Hamid Drake. Rob has also been playing with William Parker's Little Huey Creative Music Orchestra since its inception in the early 1990's. Rob and drummer Whit Dickey started playing together in the late eighties which led to a trio with guitarist Joe Morris and many other collaborations with Dickey. Rob and Joe also produced many recordings together with different configurations of musicians.
Jerome Deupree has been playing drums for over 50 years. Since moving to Boston in 1981 he has worked with the Either Orchestra, Morphine, Vapors of Morphine, the Jeff Robinson Trio, Billy Martin, and Joe Morris among others.
Joe Morris is a composer/improviser multi-instrumentalist who plays guitar, double bass, mandolin, banjo, banjouke electric bass and drums. He is also a recording artist, educator, record producer, concert producer/curator and author. His is considered to be one of the most original and important improvising musicians of our time. Down Beat magazine called him "the preeminent free music guitarist of his generation." Will Montgomery, writing in The Wire magazine called him "one of the most profound improvisers at work in the U.S."