Event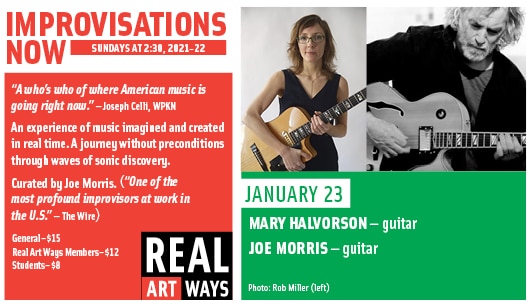 EVENTS
Improvisations Now - Mary Halvorson & Joe Morris
Checkout the whole series!
Joe Morris is a composer/improviser multi-instrumentalist who plays guitar, double bass, mandolin, banjo, banjouke electric bass and drums. He is also a recording artist, educator, record producer, concert producer/curator and author. His is considered to be one of the most original and important improvising musicians of our time. Down Beat magazine called him "the preeminent free music guitarist of his generation." Will Montgomery, writing in The Wire magazine called him "one of the most profound improvisers at work in the U.S."
Guitarist and composer Mary Halvorson has been described as "a singular talent" (Lloyd Sachs, JazzTimes), "NYC's least-predictable improviser" (Howard Mandel, City Arts), "one of the most exciting and original guitarists in jazz—or otherwise" (Steve Dollar, Wall Street Journal), and "one of today's most formidable bandleaders" (Francis Davis, Village Voice). In recent Downbeat Critics Polls Halvorson has been celebrated as guitarist, rising star jazz artist, and rising star composer of the year, and in 2019 she was awarded a MacArthur Fellowship.
Halvorson has released a series of critically acclaimed albums on the Firehouse 12 label, from Dragon's Head (2008), her trio debut featuring bassist John Hébert and drummer Ches Smith, expanding to a quintet with trumpeter Jonathan Finlayson and alto saxophonist Jon Irabagon on Saturn Sings (2010) and Bending Bridges (2012), a septet with tenor saxophonist Ingrid Laubrock and trombonist Jacob Garchik on Illusionary Sea (2014), and finally an octet with pedal steel guitarist Susan Alcorn on Away With You (2016). She also released the solo recording Meltframe (2015), and most recently debuted Code Girl (2018), a new ensemble featuring vocalist Amirtha Kidambi (singing Halvorson's own lyrics), trumpeter Adam O'Farrill, saxophonist and vocalist María Grand, bassist Michael Formanek, and drummer Tomas Fujiwara.
One of New York City's most in-demand guitarists, over the past decade Halvorson has worked with such diverse musicians as Tim Berne, Anthony Braxton, Taylor Ho Bynum, John Dieterich, Trevor Dunn, Bill Frisell, Ingrid Laubrock, Jason Moran, Joe Morris, Tom Rainey, Jessica Pavone, Tomeka Reid, Marc Ribot and John Zorn. She is also part of several collaborative projects, most notably the longstanding trio Thumbscrew with Michael Formanek on bass and Tomas Fujiwara on drums.